New Era in Heat Shrink Jointing with Nexan's Triple Layer Tube Technology
Cable jointing is a vital part of any electrical network, making sure that the electrical current maintains a continual stream. Fueled by a passion to electrify the future, Nexans have released JTS, a new range of Heat Shrink Cable Joints and E-Tech are excited to make it the latest addition to their portfolio and website!
---
Heat Shrink Cable Jointing with Triple Layer Tube
The JTS range consists of high performance, compact and easy-to-install Heat-Shrinkable Medium Voltage Straight Cable Joints (11-36kV) with Triple Wall Tube Technology (Triple Layer Tube).
The Triple Wall Tube Technology allows installers to heat only one tube instead of three for 12 to 24kV applications, and two tubes instead of three for 36 to 42kV applications. This simplifies and shortens the installation process and minimises the risk of the joint failure.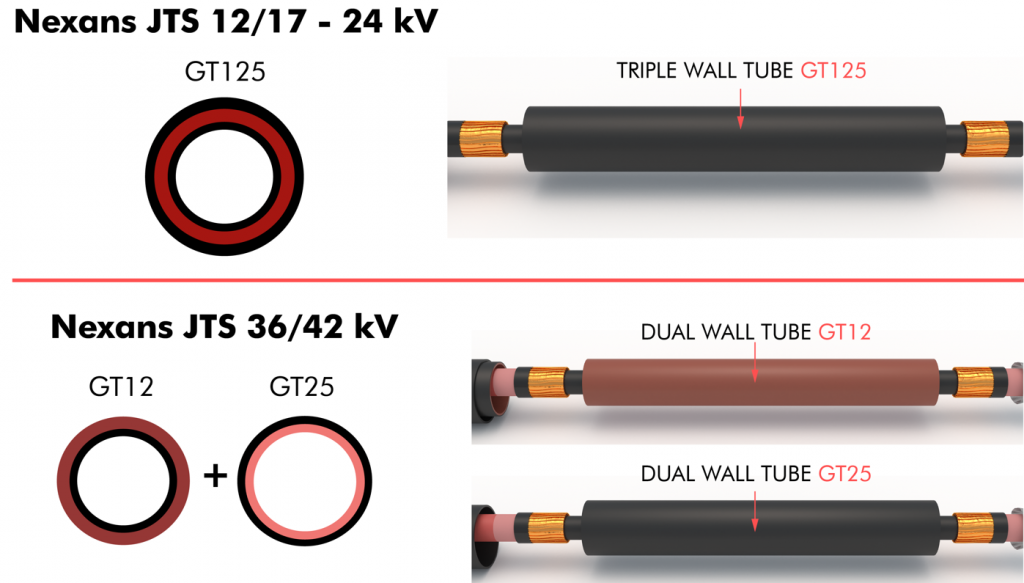 ---
Key Features & Benefits
Apart from that, Nexans JTS innovative Heat Shrink Cable Joints bring a list of incomparable features and operational benefits, including:
Quick and Easy to install – saving labour time, with no additional retraining required.

Short and Slim design – with impressive range taking sizes.

Excellent Insulating Properties – for safer installations.

Advanced Screen Connection & Armour Continuity – for maximum control of fault currents.

Thick Walled Tubing for High Mechanical Strength and Impact Resistance.

Proof against Water Penetration & Chemical Aggression.

Stabilized UV Protection – for longevity outdoors.

Halogen Free Material Content – for safer use in enclosed spaces.

Made to measure Fire Resistant blankets if required.

LSOH outersheath as standard.

To fit single core and three core MV cables up to 36kV.

Easy access to Technical Support from our UK based technical staff.
JTS is compatible with single or three-core cables, with copper (Cu) or aluminum (Al) screens, to accommodate either crimped or mechanical connectors. Its standard design was adapted for all types and brands of mechanical connectors.
---
Welcome to the new Era of Heat Shrink Jointing, by Nexans!
Nexans have been continuously and heavily investing in Research & Development to improve their heat-shrinkable (HS) technology and meet the ongoing evolution and needs of the market and their customers.
Their strong track record in creating innovative and sustainable power accessories of the future, is a never-ending process that has been and will be setting industrial standards and European norms for power accessories. The JTS range is the latest example of this.
Finally, Nexans have several comprehensive training centres all over the world, providing competency certified training for cable joints, separable connectors, terminations and other power accessories. Nexans also offer installers the possibility to be trained at their premises or directly at construction sites.
---
Installation Video
Check the full range here   View Catalogue here
---
Our Team will be ready to answer any questions you may have regarding this range or any other power accessories products needed for your project.

For additional information, contact us at:
sales@etechcomponent.com or +44 (0)1744 762 929