Product overview
CableSafe S Hooks are applied in maintenance, turnaround, construction industrial works as safety product to suspend hoses, cables and work gear off the work floor. Used by most multinationals in the following industries: refineries, chemical plants, shipbuilding, electrical and nuclear installations.
Employees and contractors use CableSafe® Safety Hooks to keep the work floor tidy. They do not conduct electricity or heat. They are the strongest Safety Hooks on the market since they are of high quality glass reinforced polyester. Multinationals prescribe their use in their companies cable management and housekeeping procedures to adhere to the highest safety practices.
The CableSafe® Safety S Hooks have a positive influence on the (often) highest incident rate of slips, trips and falls. They stop allowing employees using tie-wraps, or welding anodes for hooking up hoses and cables, provide dedicated tools, such as the CableSafe® Safety Hooks for your employees to show you take safety in its simplicity serious.
There are four different sizing options. These are 6″ (152.5 mm), 9″ (228.6 mm), 12″ (304.8 mm) and 15″ (381 mm) and the max loads are 40 kg, 55 kg, 190 kg and 300 kg.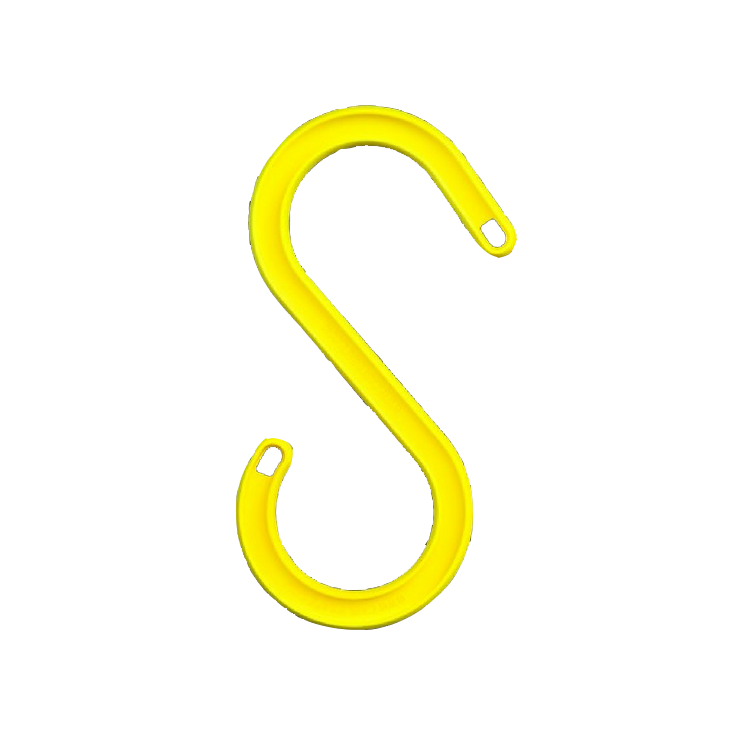 CableSafe S Hooks – Key Features
Glow in the dark available, for increased visibility
Easy to use, quickly clearing cables and wires
Non-conductive
Hooks last between 5-15 years in normal use
Max Load between 40kg and 300kg, depending on size
Comply with safety standard: British Standard BS 7671:20
FREE Technical Advisory Service
E-Tech Components UK Ltd maintains a free technical advisory service.
Contact us for enquiries concerning this and all other products: +44 (0) 1744 762 929
Additional Information
Frequently Asked Questions
-What's the max load?
Depending on the size, CableSafe S Hooks can hold between 40kg and 300kg.
-What size screw do I need?
No screws needed!
-What's the diameter of the cable opening?
The cable opening of our S Hooks are 47mm, 70mm, 95mm and 120mm.
-Are they available in different colours?
CableSafe S Hooks are available in a range of colours, including glow in the dark!
-What is the working temperature of the product?
CableSafe S Hooks can be used from -20°C (-4°F) up to 200°C (392°F).
Find out more about our products or becoming a supplier