D-Line Spring Clips – Safe-D Fire Rated Adjustable Clamp Fixings
Product overview
D-Line Spring Clips – Safe-D Fire Rated Adjustable Clamp Fixings (SAFEDSPRING) effectively secure cables (<7mm outer diameter), either direct to surface or in PVC micro trunkings.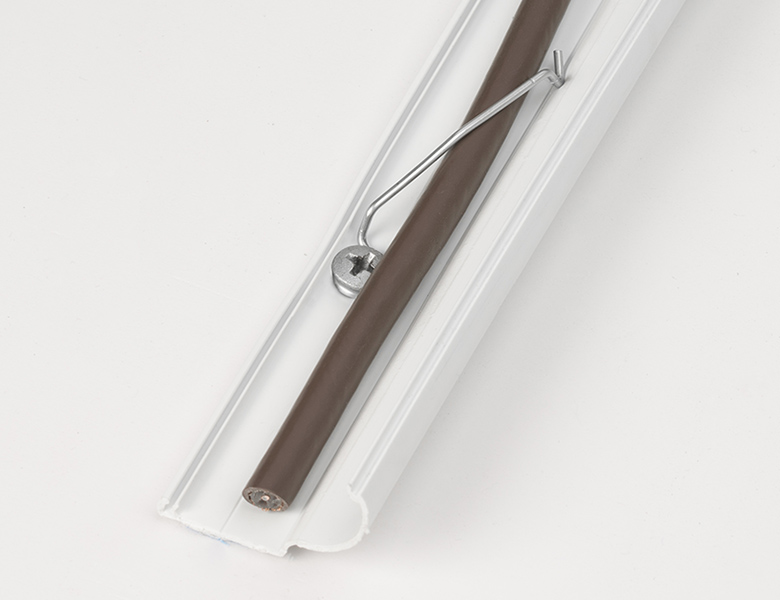 Spring Clips can be fixed at whatever angle, according to number of cables to be secured. Fast fixing, direct-to-surfaces, individually to beams or joists, or size 1 trunkings.
Safe-D Springs use high-temperature non-corrosive sprung steel that is tensioned to provide a strong contact with surfaces.
In fire conditions, the Springs (when secured with D-Fixings) can hold cables in-situ at 970°C for up to 2 hours. (For additional information on Testing, please consult PDF file below)
The 50 mm long arm is specially kinked to minimise risk of cable bruising or damage to the conductors of soft-skin cables.
| | | | |
| --- | --- | --- | --- |
| Part No | Length | Width | Height |
| SAFEDSPRING | 50 mm | 12 mm | 8 mm |
D-Line Spring Clips Features
D-Line Spring Clips – Safe-D Fire Rated Adjustable Clamp Fixings are adjustable, according to cable requirements
>1200°C melting point
Sprung-tensioned steel fire-tested
Ideal for micro trunkings 12mm – 20mm wide, or direct-to-surfaces
Secure cables (<7mm outer diameter)
Fixing eyelet is ideal for use with Safe-D D-Fixings
Heightened kink along length makes installations quick, easy & safe
FREE Technical Advisory Service
E-Tech Components UK Ltd maintains a free technical advisory service.
Contact us for enquiries concerning this and all other products: +44 (0) 1744 762 929
| | | | | |
| --- | --- | --- | --- | --- |
| Part No |  Description | Length | Width | Height |
| SAFEDSPRING | Fire Rated Adjustable Clamp Fixings | 50 mm | 12 mm | 8 mm |
Find out more about our products or becoming a supplier