Nexans 15TS-NSS Universal Bushing Boot
Product overview
Nexans 15TS-NSS Universal Bushing Boot
Nexans 15TS-NSS Universal Bushing Boot is manufactured from nontracking EPDM rubber and is designed to mate with all types of cold or heat-shrinkable terminations (without sheds). The Bushing part fits interface diameters between 40 and 60 mm. The system is separable and allows easy removal for testing. This boot is suitable for all angles between 90° and 180°.
The product features two rotatable components which accomodate both angled and straight connections to equipment bushings of cast resin or porcelain type, with diameters between 40 and 60 mm. Un-screened for use with heatchrink termination kits. No need for heat, naked flames and special tooling.
Nexans 15TS-NSS 
Kit Contents
The 3 x 15TS-NSS kit comprises 3 bushing boots for any application, silicone grease and installation instructions.
Clearances
This is an unscreened boot and therefore not safe to touch when energised. When used in a metal enclosed cable box, installer must respect these minimum clearances.
Technical Data
Voltage (Um): 17,5 kV
Conductor Size (Min-Max): 35-630 mm2
Diameter (Min-Max): 20-50 mm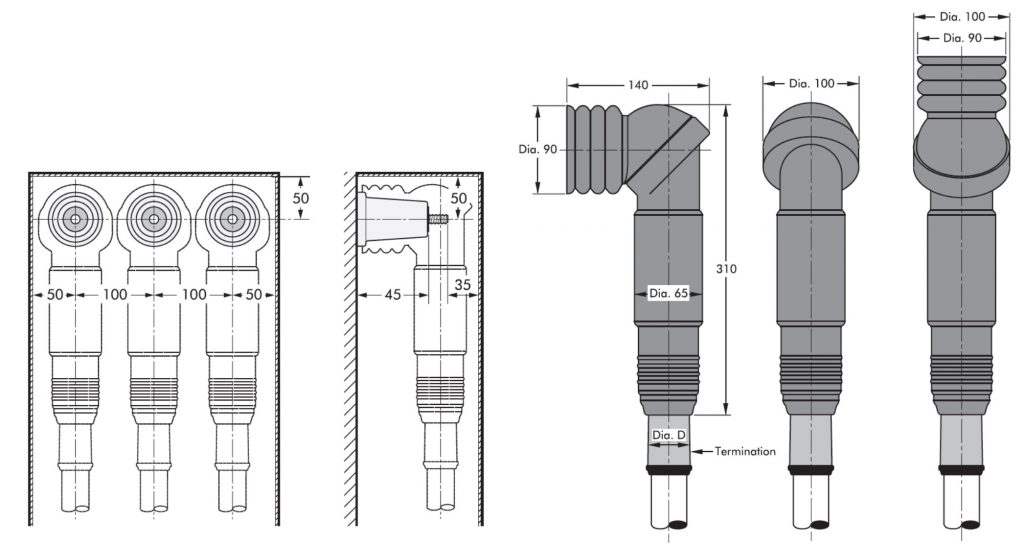 Additional Technical Data of Nexans 15TS-NSS Universal Bushing Boot can be found on the table below. For more information, please advise PDF File. Nexans 17JTS1 W
FREE Technical Advisory Service
E-Tech Components UK Ltd maintains a free technical advisory service.
Contact us for enquiries concerning this and all other products: +44 (0) 1744 762 929
| | | | | | |
| --- | --- | --- | --- | --- | --- |
| Part No | Voltage | Conductor Size Min | Conductor Size Max | Diameter Over Termination Min | Diameter Over Termination Max |
| 15TS-NSS | 17.5 kV Max | 35 mm2 | 630 mm2 | 20 mm | 50 mm |
Find out more about our products or becoming a supplier