nVent Erico GEM25A Ground Enhancement Material
Product overview
nVent ERICO GEM25A Ground Enhancement Material is the effective, maintenance-free, long-lasting, easy to use, and environmentally sensitive solution to your toughest grounding problems. GEM is a low-resistance, non-corrosive, carbon-based superior conductive material that improves grounding effectiveness, especially in areas of poor conductivity such as rocky ground, mountain tops and sandy soil.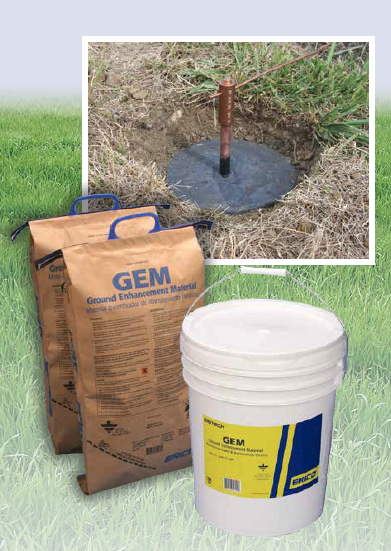 GEM25A is also the answer in situations where ground rods can't be driven or where limited land area makes adequate grounding difficult with conventional methods.
GEM contains portland cement, which sets within 3 days and fully cures within 28 days, to become a highly conductive concrete that performs in all soil conditions irrespective of the presence of water. It maintains a constant level of superior performance once cured that will not diminish over the life of the grounding system.
Comes in easy to use 25 lb (11.3 kg) bags or buckets that one person can install.GEM is maintenance-free and will never leach or wash away. A Safety Data Sheet (SDS) is available on request.
Part Numbers:  GEM25A, GEM25ABKT
nVent Erico GEM25A Features
EFFECTIVE
Dramatically reduces earth resistance and impedance measurements
Maintains constant resistance for the life of the system once in its set form
Performs in all soil conditions even during dry spells
May reduce the size of the grounding system where conventional methods are unsatisfactory
MAINTENANCE-FREE
Does not require periodic charging treatments or placement
Does not require the continuous presence of water to maintain its conductivity, making it ideal for tough soil conditions or remote installations
LONG-LASTING
Fully sets within 3 days, fully cures within 28 days
Does not dissolve, decompose or leach out
Non-corrosive per IEC
Reduces vandalism and theft since conductors are hard to remove from concrete
EASY TO USE
Easy-to-handle 25 lb (11.3 kg) bags or buckets
Requires one person to install
Can be installed in dry form in vertical orientation
ENVIRONMENTALLY SENSITIVE
Exceeds IEC® 62561-7 which sets the benchmark for corrosion, leaching, sulfur content, and other environmental regulations
EPA compliant to Toxicity Characteristic
Leaching Procedure (TCLP)
Safety data sheet available upon request
PLEASE CONSULT THE DATASHEET BELOW FOR INSTALLATION INSTRUCTIONS, RECOMMENDED SPECIFICATIONS AND ADDITIONAL INFORMATION.
FREE Technical Advisory Service
E-Tech Components UK Ltd maintains a FREE technical advisory service.
Contact us for enquiries concerning this and all other products: +44 (0) 1744 762 929
Find out more about our products or becoming a supplier