18th Edition Wiring Regulations Explained
If you are installing ANY type of cable on a project, whether it's permanent or temporary, the new IET Wiring Regulations apply to you. You can get yourself up to date on the 18th Edition Wiring Regulations changes here:
18th Edition wiring regulations (BS7671)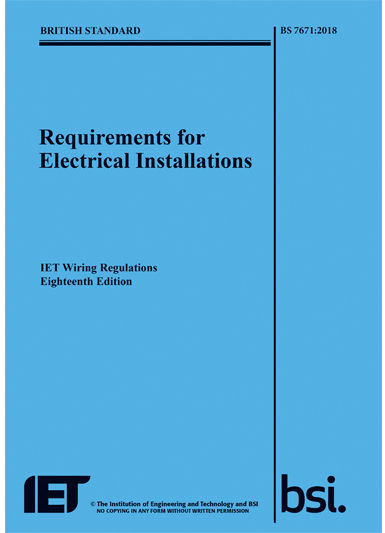 The 18th Edition of the IET Wiring Regulations (BS7671) came into force on January 1, 2019. That means construction site managers, health and safety managers, electricians and electrical contractors need to be fully compliant and up-to-date with the new BS7671 wiring regulations – especially in relation to how cables are supported in the event of a fire.
The new wiring regulations include updates designed to reduce the risk of accidents from the placement of hanging cables. Installing, hanging or suspending electrical cabling will need to comply with the new wiring regulations. The aim is to improve Health & Safety using the adequate placement of metal clips to support hanging cables.
This article explains what the new 18th Edition wiring regulations mean in terms of fixing and suspending electrical cables.
Why have the Wiring Regulations changed?
The aim of the 18th Edition Wiring Regulations regarding the fixing of hanging cables is to reduce the risk posed by suspended cables in the event of a fire.
The change follows the death of two firefighters at Shirley Towers in 2010, who became entangled in fallen cables. Also the firefighters that lost their lives in 2005 at Harrow Court Tower Block, where one of them got entangled in fallen electrical cables.
The new wiring regulations aim to avoid similar incidents. The risk of fire on construction sites should always be a consideration when managing cables. Knowing how to improve cable management, reduces risks for workers on-site as well as emergency service crews.
What do the new regulations require?
The 18th Edition states that you can't use plastic fixings as the sole use of holding up cables. However, IET clarifies: "Suitably spaced steel or copper clips or ties are examples that will meet the requirements of this regulations."
This doens't means banning plastic fixings, but you must supplement them with metal ones. Electricians and electrical contractors cannot rely exclusively on plastic clips, saddles or ties.
What type of cable supports do they allow?
The regulations apply to all types of cable installation and not just escape routes such as fire exits. Regulation 521.10.202 now requires adequate support of cables against their premature collapse in the event of a fire.
It applies to all types of cable that could fall in the event of a fire. This means that you can fully support cables fixed against a wall (that don't cover a doorway) with plastic fixings. If the cable fell in a fire, it would fall to the corner of the corridor and not trap anyone.
Do they apply to existing cable installations?
The Regulations apply to the design, erection and verification of electrical installations, as well as additions and alterations to existing electrical cable installations.
The good news for construction site managers and health & safety consultants/managers is that existing installations that have been installed in accordance with earlier editions of the Regulations do not need to be replaced. However, you might need to supplement them by metal fixings where plastic is the 'sole means of supporting' cables.
How do you comply with the new regulations?
Switch to Tidi-Cable…
Tidi-Cable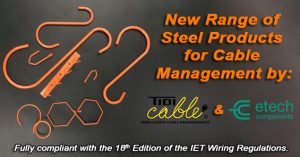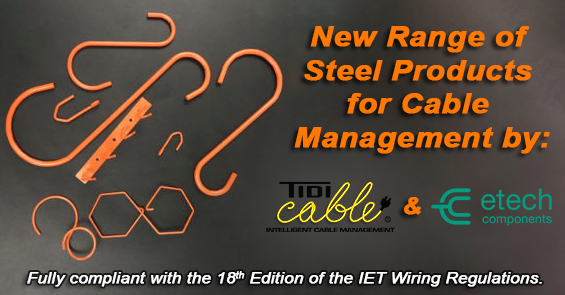 is fully supportive of the 18th Edition wiring regulations.
They have developed a new range of metal cable supports and fixings to help ensure construction site managers, responsible for electricians and electrical contractors, are fully compliant of the new wiring regulations.
This range of steel cable supports and fixings includes re-usable, strong and effective solutions for installing and pulling cables on construction sites.
Tidi-Cable have been developing these new products over the past 12 months in preparation for the new regulations. Their high-quality cable fixing ranges are safe, easy-to-use and cost-effective while meeting 18th Edition wiring regulations.