Prysmian Multicleat System – Multi strap, Quadrafoil, Quadcleat
Prysmian Multicleat System – Multi strap, Quadrafoil, Quadcleat
378AB/378JB/378PF Series – General Information
Prysmian BICON Multicleat System (Multi strap, Quadrafoil, Quadcleat) 378AB/378JB/378PF Series (Trefoil Cable Cleat or Single Way Cable Cleat) is suitable for use with cables diameters 24 to 145mm.
Consisting of Aluminium or Stainless Steel bases with a Stainless Steel strap complete with a tensioning clip, the Prysmian  BICON Multicleat system offers the best flexibility for cable fixing available on the market today. With an unprecedented test portfolio and service record, it should be your first choice for trefoil and single cables installations requiring a high system fault current rating!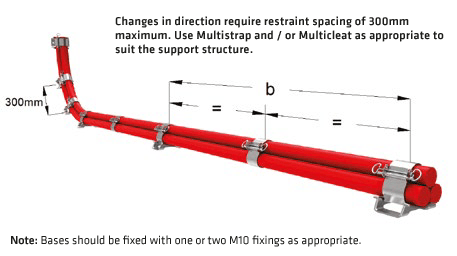 Multistraps are used as intermediate restraints and are positioned centrally between a pair of Multicleats. Standard and Heavy Duty products have different short circuit ratings related to their installation spacing.
All Multicleats and Multistraps now come with a disposable shear torque tensioning adapter designed to aid the closure of the cleats and also better control the tension applied during installation.
The adapter fits into the open end of the winding pin and is used with a standard 13mm socket wrench. Any remaining slack in the strap is removed by rotating the pin and adapter with the wrench until the adapter shears off. This will ensure that a consistent and correct torque is applied to every cleat and strap in the installation.
 KEY ADVANTAGES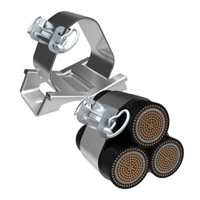 The Prysmian BICON Multicleat System (Multi strap, Quadrafoil, Quadcleat) 378AB/378JB/378PF Series  comprises of a heavy duty stainless steel strap and a metallic base around which the strap is wound. The benefits of having a strap and base set-up, as opposed to just a strap type cleat, are as follows:
Maintaining the set distance away from any support structure to avoid de-rating the cables.
The bases can be used on any ladder and tray systems which have slots for the bolts to fit through, regardless of the shape of the slots.
The strap can be wrapped around the cables and base without lifting up the cables. The width of the bases mean that the cables have a greater area of contact, than that of the typical strap type cleat, so the chance of damaging the cables due to their own weight is reduced.
Secures the trefoiled cables within a tensioned strap, that has the ability to expand and absorb the shock of a short circuit instead of needing to be strong enough to resists the shock as a rigid structure – and importantly has a less damaging effect on the cables.
Ability to handle cables with vastly varying cable tolerances.
ADDITIONAL INFORMATION
Operating temperatures -60°C to +105°C.

All straps manufactured from non-magnetic 316L Stainless Steel.

Epoxy coated Aluminium versions or Stainless Steel available for harsher environments.

Optional liners are available from LSOH materials (

BS6853 compliant

) for both the Multi cleat and Multi strap.
London Underground Approved-

LUL APR Product ID 1996

.

Patent number 2082242.

7. Suitable for:

use with cable diameters 24 to 145mm.

single core cables laid in trefoil formation with high fault current capacities.

use with all standard ladder and tray systems.

groups of dissimilar cables.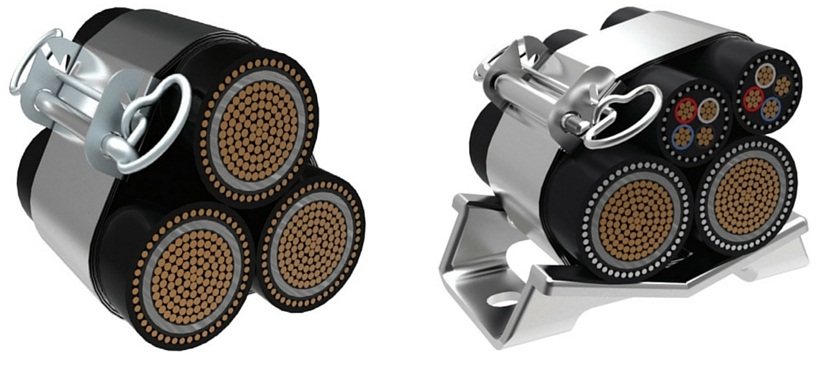 INSTALLATION SEQUENCE
STEP-1

STEP-2

STEP-3

Fasten base to support with M10 fixings.
Loop strap through base and around cables.

Standard duty = 2 loops.

Heavy Duty = 3 loops.

Pull slack into outer loop. Insert split pin
from right hand side around outer layer of
strap about 10mm from end. Push plastic
shear torque adapter fully onto the end of
the Split pin and attach 13mm socket
wrench. To tension the strap, rotate
key anti-clockwise with the socket
wrench until the adapter shears.

Remove the shear torque

adapter
and wrench. Swing the key over and
engage in slots in clip.
prysmian 378AB/378JB
DEMONSTRATION VIDEO
IMPORTANT NOTE
Horizontal changes in direction, restraint spacing of 300mm maximum. Use Multistrap and/or Multicleat, as appropriate, to suit support structure. To ensure adequate restraint, Multistrap MUST be used at the mid-point between cleats on all horizontal and vertical straight runs:

MISCELLANEOUS ARRANGEMENTS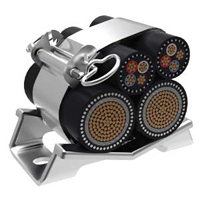 Prysmian  BICON Multicleat/ Multi strap System 378 Series for miscellaneous arrangements is ideally suited for securing groups of cables of differing sizes. The Etech technical help team will be able to match the correct cleat / strap to the size and fault rating of the cable arrangement.
FREE Technical Advisory Service
E-Tech Components UK Ltd maintains a free technical advisory service.
Contact us for enquiries concerning this and all other products: +44 (0) 1744 762 929