Nexans Power Accessories Gears up for HS2
High Speed 2 (HS2) is one of the largest and most complex infrastructure projects ever undertaken in the UK. It will offer more capacity, better connectivity and zero carbon rail travel for a greener future. To achieve that, contractors seek to work with companies demonstrating compliance with technical, safety and environmental standards at all times. As work ramps up on the project, Nexans Power Accessories has geared up its product range in readiness to support system designers and electrical installation contractors, while getting a Network Rail PADS Approval.
---
Euromold MV Separable Connectors for HS2
Nexans Power Accessories can fulfil the aforementioned HS2 contactor demands. They offer innovative components fit for purpose that align with the company's pioneering objective to 'Electrify the Future'. Euromold's range of approved Medium Voltage (MV) Separable Connectors are already in service in the Rail Sector around the world, including London Underground systems.
Euromold solutions include MV-HV Separable Connectors, Joints & Terminations that connect, splice, repair and maintain medium/ high voltage cable and power distribution systems. Their range of connectors are suitable for all European DIN EN 50180 and American (ANSI) specification bushings. Individually tested before leaving the factory, they offer many advantages, including the fact they're:
Quick and easy to install
Enable touchproof termination
Have in-built stress relief
Are readily dis-connectable
Euromold's commitment to quality is demonstrated by its ISO 9001 certification. All products meet the International standards like CENELEC HD 629.1, EN 50180, IEC 60137, IEC 60502-4 or other country specifications. Additionally, official certificates, CESI, KEMA, ATEX prove the conformity of Euromold products. Finally, they continuously perform long duration tests of existing or new products  in their test fields. 
---
Nexans JTS Heat-Shrink Cable Joints & Terminations
Additionally, Nexans has also heavily invested in significant testing and approvals regime on its next generation of MV Cable Joints. Recently launched, Nexan's JTS Heat-Shrinkable MV Cable Joints range features an innovative Triple Wall (Layer) Tube Technology. Additionally, it is currently undergoing further flame and toxicity testing to conform with LU Standard S1085 and gain full approval!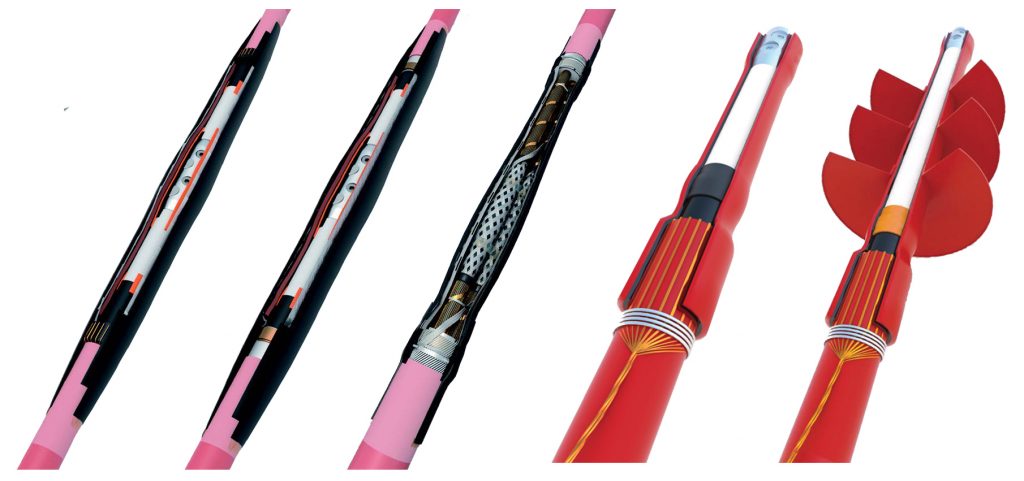 The JTS range consists of high performance, compact and easy-to-install heat shrinkable joints. They reduce complexity, installation time and improve overall connection quality. All that while, already subjected with associated terminations to Nexans rigorous testing procedures. Fully certified according to ISO 9001, ISO 14001as well as ISO/TS 22163 – IRIS (International Railway Industry Standard), ISO 45001 and ISO 37001.
Revolutionizing the jointing sector, JTS is a Triple Layer Tube Innovation that enables jointers and installers to heat only one (1) tube instead of three (3) for 12 to 24kV applications, and two (2) tubes instead of three (3) for 36 to 42kV applications. This simplifies and shortens the installation process and minimises the risk of the joint failure! 
For more on Nexan's Triple Layer Tube Technology, read article: New Era in Heat Shrink Jointing with Nexan's Triple Layer Tube Technology
---
HS2 Network Rail PADS approval

Finally, Nexans recently received Network Rail PADS approval acceptances for its 52kV rated separable "T" boot connectors and associated bushings, which are recommended by Network Rail for connection onto ISP and T&R ground and structure mounted 25kV transformers for auxiliary supplies (PADS No PA05/05422). Similarly, Nexans 52KV rated AFN slip on technology terminations for 25kV air insulated switchgear (PADS No PA05/06215) is also approved for use on the Network Rail (and HS2).
The company's product range including its components already have a Network Rail PADS Approval, will offer the whole package involved in supplying and connecting both 11 & 25kV services for traction and none-traction power on these systems.
---
Our Team will be ready to answer any questions you may have regarding this range or any other power .ur project.

For additional information, contact us at:
sales@etechcomponent.com or +44 (0)1744 762 929