Electroplast Coverall Two-Part Cable Duct
Product overview
Electroplast Dutchclamp Coverall Two-Part Cable Duct is a practical and innovative solution for optimal protection and identification of cables and wires! Designed to facilitate covering and protecting cables, tubes and pipes that are already in use. It is reuseable and installer can assemble/ disassemble without the use of any tools!
By means of four hinges on one side and three slide connectors on the other, the two parts are tightly sand-proof-sealed. The ducts connect to each other by spigot and socket joints, integrated into the product. The lengths can be opened easily for inspection or other activities. Space has been created in the joint to accommodate expansion and contraction.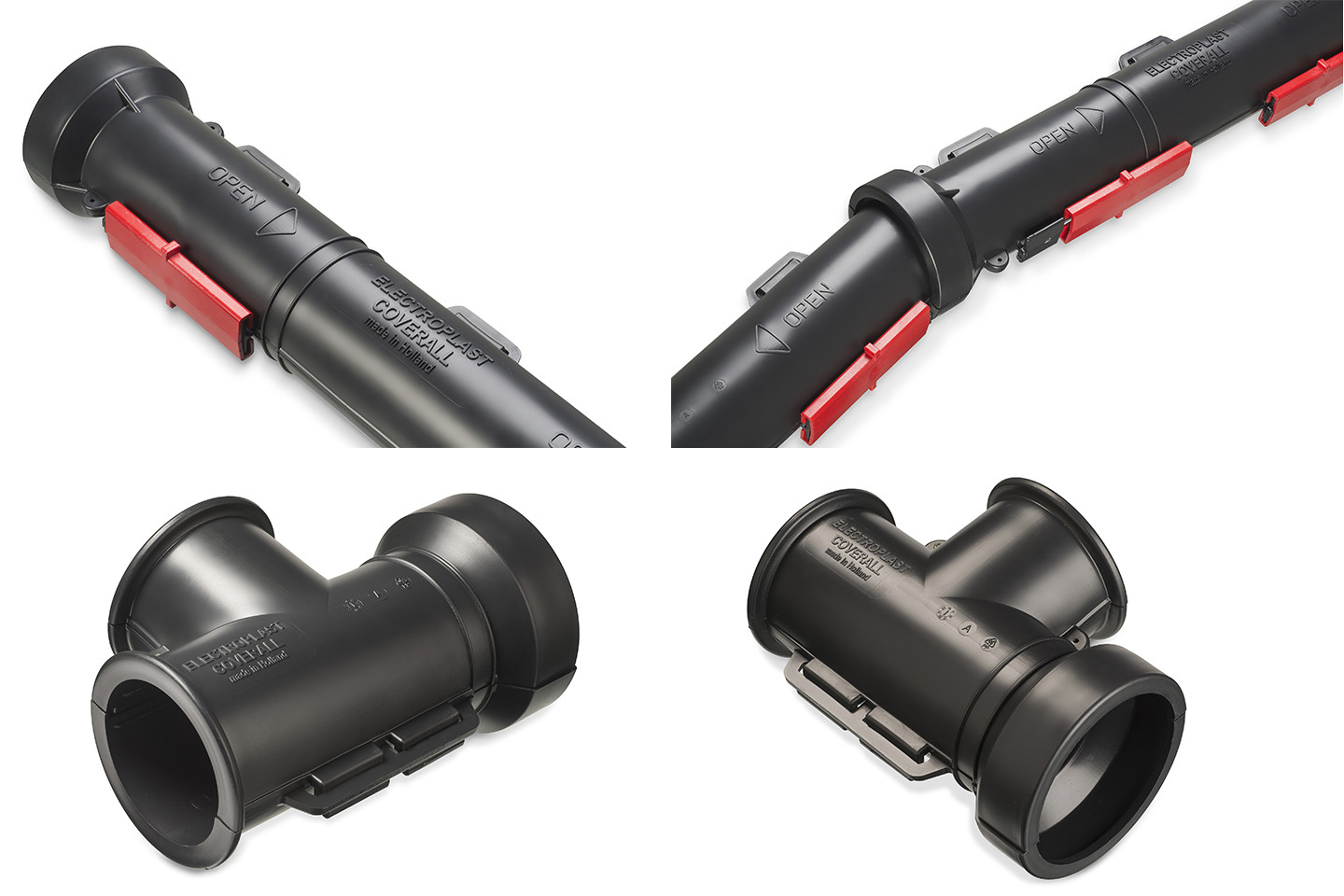 Features & Benefits
Light weight and strong.
Reusable.
Available in four sizes.
Lockable.
Can (dis)assemble without tools.
UV resistant.
15° orientation correction per linear meter.
Tees for any size available as standard
Your Choice
The connections are suitable for making an angle up to 15° per meter in all directions. Furthermore, the ducts lock for protection against vandalism using special screws or a steel band.
Coverall two-part cable ducts are available in four sizes: Ø60 mm, Ø110 mm, Ø160 mm and Ø217 mm. Each cable duct is 1,000 mm long.
For branch connections, two-part tees are available, creating an always-closed joint.
Design protected, No. 3455401-001; -003
Electroplast Coverall Applications
Electroplast Coverall Cable Duct is ideal for companies in the Railway & Traction, Energy, Wind and Telecommunications industries, as well as contractors in civil engineering or any other project includes cables, wires and pipes that need covering and protecting.

---
FREE Technical Advisory Service
E-Tech Components UK Ltd maintains a free technical advisory service.
Contact us for enquiries concerning this and all other products: +44 (0) 1744 762 929
Find out more about our products or becoming a supplier