Elpress C-sleeves – Copper Branch Connectors (6-300mm²)
Product overview
Elpress C-sleeves – Copper Branch Connectors
Elpress C-Sleeves – C Crimps Copper Branch Connectors (6-300mm²) are branching sleeves for Cu-conductors 6-300 mm², made of copper 99.95%.
Part Numbers: Elpress C6-10, C16-25, C25-50, C50-70, C70-95, C95-120, C150-185, C240-300, C23.
Suitable for splicing and branching Cu conductors for earthing, lightning conductor installations and other earthing, equipotential bonding and potential equalisation applications.
Elpress crimping tools and corresponding dies used when crimping these sleeves. No other tools or dies required.
This product replaces: Elpress Copper Branch Connectors (C-sleeves) 6-300mm²
Download PDF File for Technical Data, Reference List and more 
Elpress C Crimps Features
Simplified installation that facilitates your work.
8 branching sleeves replace 41 existing conventional C-sleeves.
Same dies as before – but fewer variants (BC16, BC11 and BC4 are withdrawn).
Expanded area of use, conductors with cross sectional areas of 300 mm² can now be branched with 95, 70, 50 and 25 mm².
Short-circuit tested in accordance with IEC 61238-1.
Environmentally and quality certified according to ISO14001 and ISO9001.
Material: Copper (Cu), tin plated (Cu/Sn)
Possible to front feed all branches.
Download PDF File for Technical Data, Reference List and more 
General Information
CU-CONNECTIONS
Elpress Cu-connections and Elpress C-sleeves – Copper Branch Connectors are produced from electrolytic 99.9% copper. Terminals and Through Connectors exist in a large variety of types for stranded as well as for flexible conductors. C-sleeves for earth conductor branch off also come in a large number of sized. If a standard type is not suitable, we produce tailor-made designs specific to the application.

MARKING
Elpress logotype is included on the marking, also the die number. The other side of the C sleeve is marked with the size of the Cu wire that fits and the total area. When an adequate crimping is done with the right tool, Elpress' crimping dies make an impression on the sleeve so that all connections can be checked afterwards.
In the tools, there is a built-in full closure system that ensures that the entire crimping process is completed – a prerequisite for professional and quality-assured work.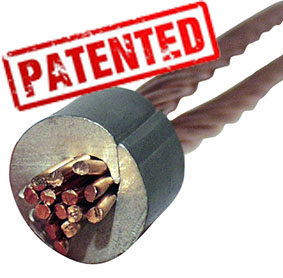 PATENTED SOLUTION
All Elpress Copper Branch C-Sleeves are based on the patented solution of the previous C89 sleeve. The solution means that the edges of the sleeve overlap after the contact crimping has been done. This patented solution allows multiple joint combinations to be used in one and the same sleeve.

UPDATE PROGRAM 2018
In the autumn of 2018, the program was updated by C-sleeves, where the number of sleeves was compressed from 41 to today being 8 sleeves. The number of dies needed to perform the contact crimping has also been reduced (BC16, BC11 and BC4 are deleted). The sleeves C6-10, C16-25, C25-50 (formerly C89) and C50-70 are tin plated and have a different appearance than our other C-sleeves.

For more information on Elpress C-sleeves – Copper Branch Connectors (C50-70, C70-95, C150-185), consult PDF File or Technical Data Table  below.
*Technical Data subject to change without notice.
FREE Technical Advisory Service
E-Tech Components UK Ltd maintains a free technical advisory service.
Contact us for enquiries concerning this and all other products: +44 (0) 1744 762 929
| | | | | | | | | |
| --- | --- | --- | --- | --- | --- | --- | --- | --- |
| Cat. No. | a | b | c | Die no. | Side feed | Front feed | Pcs/ Pack | Rec. Tool |
| C6-10 | 17,6 | 14 | 10 | 5 | 6/6-16, 10/6-16 | 6-10/6-10, 16/10 | 100 | V600, V1300, V250 |
| C16-25 | 22 | 16 | 12 | 6 | 16/16-25, 25/(2*2,5)-25 | 16-25/16-25, 25/(2*2,5)-10 | 100 | V600, V1300, V250 |
| C25-50 | 30 | 18 | 16 | 8-9 | 25-50/25-50, 16-50/35-50 | 16/35-50 | 50 | V600, V1300, V250 |
| C50-70 | 37 | 30 | 22 | 13 | 50/50, 70/25-70, 95/25-50 | 50/50, 70/25-70, 95/25-50 | 50 | V1300, V250 |
| C70-95 | 39 | 30 | 22,2 | 13 | 70/70, 95/50-95, 120/25-70 | 70/70, 95/50-70, 120/25-50 | 50 | V1300, V250 |
| C95-120 | 45 | 35 | 25,6 | 15 | 95/95, 120/70-120, 150/25-70, 185/25-50 | 95/95, 120/70-120, 150/25-70, 185/25-50 | 25 | V1300, V250 |
| C150-185 | 62,5 | 40 | 34,2 | 18 | 150/95-150, 185/70-185, 240/25-185, 300/25-120 | 150/95-150, 185/70-185, 240/25-185, 300/25-120 | 10 | V250, V1470 |
| C240-300 | 72 | 50 | 40,7 | 21 | 300/240, 300/185, 300/150, 240/240 | 300/240, 300/185, 300/150, 240/240 | 10 | V250, V1470 |
| C23 | 70 | 40 | 40 | 21 | 300/300 | 300/300 | 10 | V250, V1470 |
Find out more about our products or becoming a supplier