Elpress T2600C Crimping Tool (Cu 10-120mm², Al 16-35mm²)
Product overview
Elpress T2600C Crimping Tool is a tested and certified mechanical hand-held tool for crimping Cu Terminals KR/KS 10mm², KRF/KSF 16-120mm², KRD/ KSD 16-120mm², KRT/ KST 10-120mm², Al Terminals 16-25mm² (-35 solid), C-sleeves 6/6-50/50 mm², DIN 46235 10-95mm².
EAN code: 7393487000063
Note: Calibration and Certification of these tools can be performed prior to despatch if required (please allow 24/48 hours for this process). Calibration and Certification are in line with BS7609 requirements, and will ensure the durability and reliability of your crimping systems.
Please advise at the time of order/quote if you require these tools to be Calibrated and Certified and we will advise details of costs.
Elpress T2600C Features
Rapid opening enables easy die change and quick removal after jointing
Crimp die (TB7) is available for solid 10mm² Cu-connector, (for EXCL-type cable or similar)
Crimp force approx. 57 kN
Rapid die closure and minimum handle force
Easy to operate in confined spaces
Only four dies can crimp 10-120mm² Cu (KRD/ KRT)
Quick feed function
Delivered in a metal box
Equipped with full closure mechanism
Net Weight 1.9 kg
Dimensions: 445 x 185 x 52 mm
General Information
SYSTEM ELPRESS
System Elpress consists of terminals and tools, designed and tested together to give a certified crimping result. This ensures that users will feel confident when using our systems. It also ensures the achievement of a secure connection through the proper handling of our products.
HYDRAULIC CRIMP SYSTEMS
Elpress hydraulic crimp systems crimp from 10 to 1200 mm². The systems consist of pumps and crimp heads that can be freely combined or with complete hand-held tools, where these devices are integrated. Wide range of accessories available for crimping, pre-rounding, cutting etc. Together with the matching terminals, they form  a complete system. Both pumps and hand-held tools have, with a few exceptions, quick feed function that means crimping can begin after a few pump strokes. The systems have a built-in ratchet lock that ensures the completion of the initial crimp and thus, produces results with the best characteristics.
For more information on Elpress T2600C Crimping Tool (Cu 10-120mm², Al 16-35mm²), consult PDF File or Technical Data Table below.
*Technical Data subject to change without notice.
FREE Technical Advisory Service
E-Tech Components UK Ltd maintains a free technical advisory service.
Contact us for enquiries concerning this and all other products: +44 (0) 1744 762 929
Area mm²
Al mm²
CU KRF/KSF mm²
C sleeves mm²
Solid Al
Area mm²
Gross Weight kg
L x W x H mm
Crimping Geometry

10-120

16-25

10-120

6/6-50/50

35

4,12

445 x 185 x 52

Punch, Hexagonal, Oval
Technical Information
Information label for crimp tools T2600.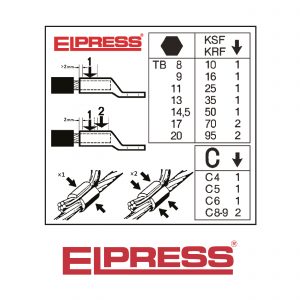 Find out more about our products or becoming a supplier