Filoform FiloSeal+ Duct Seal
Product overview
Filoform FiloSeal+ Duct Sealing System is a universal solution for sealing cables and pipes in ducts or bore holes. Suitable for sealing several cables or pipes contained in one duct and also allows re-entry of the seal to add or remove cables or pipes as required.
Filoform Part Numbers: FiloSeal+ 125mm (282580), FiloSeal+ 200mm (282590)
Telstra / TPG Approved Duct sealing kit in accordance with Telstra document ID TM00042A01
Application Process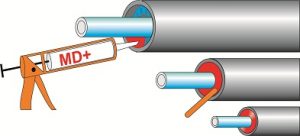 The Filoform duct sealing system FiloSeal+ uses MD+ sealant which is easily applied from a standard skeleton gun. The high quality, one component, flexible sealant "MD+" is based on a silicon compound that cures with air (Humidity).
After application and full curing the thixotropic MD+ forms a plastic elastomer mass with special qualities effectively sealing and bonding, while providing a high level of durability.
FiloSeal+ is very easy to apply regardless of the type of cable scenario in the cable ducts as it uses a uniquely shaped foam piece which positions neatly around the cables or pipes in the duct.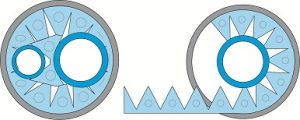 The unique design of the tri-flexible foam makes positioning and separation of the cables very simple while also providing a backing for the MD+ to be applied on.
This seal is easily installed in vertical scenarios while providing the added security of ensuring no loss of components down the duct.
FiloSeal+ is suitable for sealing several cables or pipes contained in one duct and also allows re-entry of the seal to add or remove cables or pipes as required.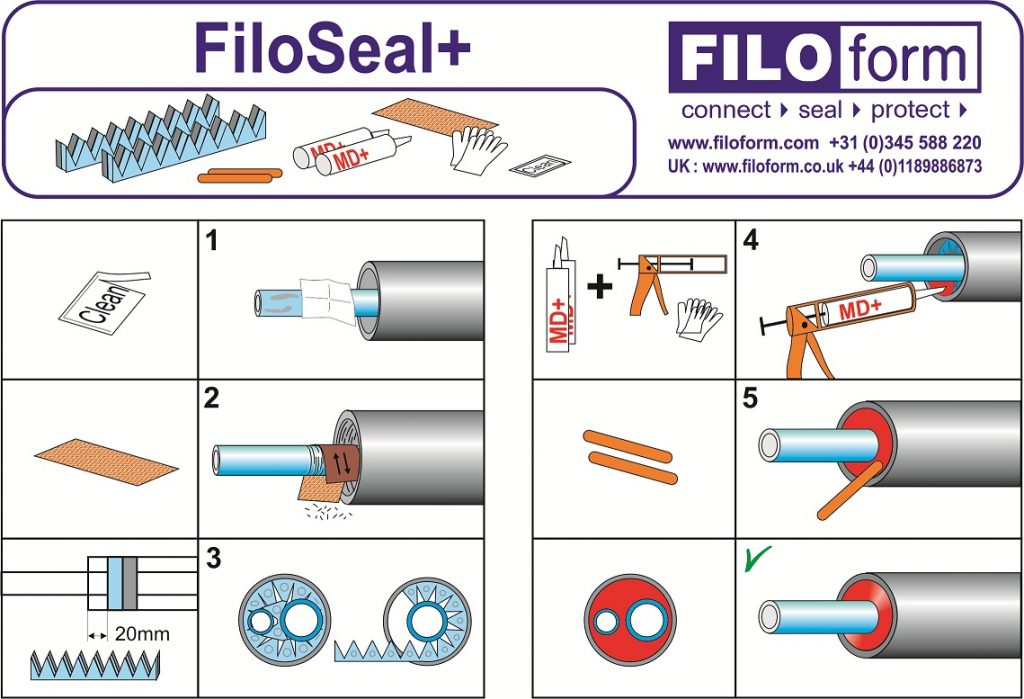 Filoform FiloSeal+ Duct Seal – Key Features
Flexible, one component, adhesive and sealing compound in a cartridge – (310ml)
Kits are complete with backing and mastic to fill an empty duct of the quoted kit size
High levels of Gas and Water tightness
Excellent adhesion
Shows Fire resistance properties
Resistant against Water, Alkaline, Chemical agents
Resistant to, Petrol, Diesel, Ethanol, ASTM oil, LPG & Many more.
Suitable for sealing underground cable ducts set out within the APEA 'Blue Book'
Resistant to Hydrogen Sulphide / Methane and many other Gases (NedLab)
Non-corrosive
Solvent-free
Shock absorbing
Non-toxic, neutral and almost odourless
Also suitable for limiting the EX-zones during transitions (observe chemical resistance)
Complies with 2011 NEC Articles 225.27, 230.8, 300.5(G), 300.7 (A) on Raceway Seals, and 501.15 (B)(2)
WIMES Compliant, (3.02 2013 clause 6.4.3.2 d)
Suitable for any shaped duct /borehole/opening
Quick and easy installation
A complete kit for one duct
Seals all know materials, PVC & PE sheathed cables, PILC, (HD) PE pipes
Suitable for renovations, can be installed retrospectively
Over 25 years of operational experience
Filoform FiloSeal+ Duct Seal –
Approvals
Thames Water Approved
Welsh Water Approved
Severn Trent Water Approved
Southern Water Approved
Anglian Water Approved
South East Water Approved
Yorkshire Water Approved
Bournemouth Water Approved
Scottish Water Approved
---
For Additional Information on Filoform FiloSeal+ 125mm (282580) and 200mm (282590), please refer to the Technical Data Table below or download PDF File.
FREE Technical Advisory Service
E-Tech Components UK Ltd maintains a free technical advisory service.
Contact us for enquiries concerning this and all other products: +44 (0) 1744 762 929
Part Number
Product Name
Duct Diameter
Min - Max (mm)
Max Cable Diameter
in the duct (mm)
Order Unit

282580

FiloSeal+ 125mm

Ø 125 max.

Ø 95 max.

per piece

282590

FiloSeal+ 200mm

Ø 200 max.

Ø 160 max.

per piece
---
| | | |
| --- | --- | --- |
| Property | Value | Standard |
| Density | 1.2 gr/cm³ |  - |
| Flow | < 2mm | ISO 7390 |
| Colour | red-brown |  - |
| Skin over time (23C/55%RH) | ± 15 minutes |  - |
| Curing | 3 mm / 24 hours |  - |
| Hardness | 30 shore A | DIN 53505 |
| Elongation | 100% | DIN 53504 |
| Tensile strength | 0.8 N/mm² | DIN 53504 |
| Operating temperature | +5°C to +40°C |  - |
| Temperature resistance | -40°C to +120°C |  - |
Find out more about our products or becoming a supplier