Filoform MDIII Duct Sealing System
Product overview
Filoform MDIII Duct Sealing System has been developed to provide an effective and simple solution for all your Gas and Watertight sealing of cables & pipes in ducts, conduits & boreholes. This duct sealing system is extremely flexible and can be installed in ducts vertically and horizontally. Suitable for ducts with a diameter up to 250mm and cables or pipes with a diameter up to 220mm.
Filoform Part Numbers: MDIII-25 (780291), MDIII-50 (282550P), MDIII-75 (282575), MDIII-110 (280295), MDIII-160 (280296), MDIII-200 (2802973), MDIII-250 (2802978).
Filoform Duct Sealing Systems provide an effective gas and watertight seal of underground cable penetrations and protect valuables from damage appearing due to gas and water leaks. They are specified and used by major Electrical, Gas, & Water Utility companies in the UK and Benelux countries.
Complies with 2011 NEC Articles 225.27, 230.8, 300.5(G), 300.7 (A) on Raceway Seals, and 501.15 (B)(2)

Application Process
Filoform duct seals type MD are based on a specially formulated two-component expanding polyurethane resin. The polyurethane sealant comes in a transparent plastic bag with a screw ring. In this plastic bag, a clamping profile separates the two components. After removal of the clamping profile, simply mix the two components for 30 seconds. The package is now ready for use and can be easily opened with the use of the screw nipple.
After pouring the resin in the duct, the resin starts expanding by forming CO². During the expansion the polyurethane filling material penetrates all areas inside the duct, thus sealing all openings regardless of the shape of the duct or borehole. After this the hardening process starts. The Filoform two component filler provides not only a 100% gas and watertight seal but also offers excellent mechanical strength.
The MDIII system (MDIII-25, MDIII-50, MDIII-75, MDIII-110, MDIII-160, MDIII-200, MDIII-250) is suitable in situations where more than one cable or pipe is in the duct. The opening of the duct does not need to be completely round and is far superior to aerosol foams.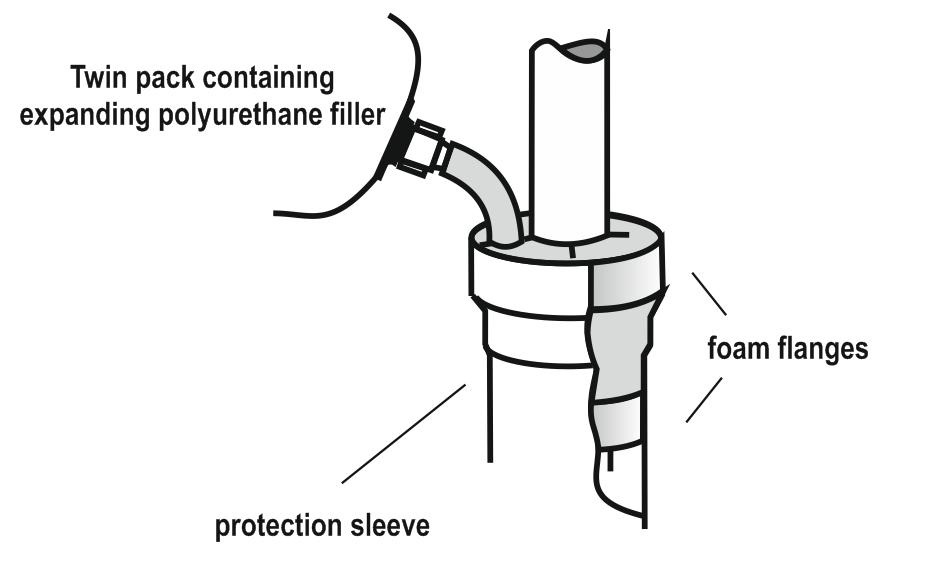 Filoform MDIII Duct Sealing System – Key Features
Gas and Watertight 1.0 bar (14.50psi)
Can become Fire resistant by using MD+
Resistant to Hydrogen Sulphide / Methane and many other Gases
Resistant to Hydrocarbons
Complies with ATEX regulations
WIMES Compliant, (3.02 2013 clause 6.4.3.2 c)
Complies with 2011 NEC Articles 225.27, 230.8, 300.5(G), 300.7 (A) on Raceway Seals, and 501.15 (B)(2)
Suitable for ducts/conduits & boreholes up to 250mm (10.0″ inches)
Quick and easy installation
A complete kit for one duct. No wastage
Seals all know materials, PVC & PE sheathed cables, PILC, (HD) PE pipes
Excellent mechanical strength, after curing resistant to movements, shocks and vibrations
Suitable for renovations, installation can take place retrospectively
Over 30 years of operational experience
---
For Additional Information on Filoform MDIII Duct Sealing System (MDIII-25, MDIII-50, MDIII-75, MDIII-110, MDIII-160, MDIII-200, MDIII-250), please refer to the Technical Data Table below or download PDF File.
FREE Technical Advisory Service
E-Tech Components UK Ltd maintains a free technical advisory service.
Contact us for enquiries concerning this and all other products: +44 (0) 1744 762 929
Part Number
Product Name
Duct Diameter
Min - Max (mm)
Max Cable Diameter
in the duct (mm)
Order Unit
780291

MDIII-25 duct sealing kit

Ø 25 max.

Ø 8 max.

per piece

282550P

MDIII-50 duct sealing kit

Ø 50 max.

Ø 20 max.

per piece

282575

MDIII-75 duct sealing kit

Ø 110 max.

Ø 40 max.

per piece

280295

MDIII-110 duct sealing kit

Ø 125 max.

Ø 80 max.

per piece

280296

MDIII-160 duct sealing kit

Ø 160 max.

Ø 130 max.

per piece

2802973

MDIII-200 duct sealing kit

Ø 200 max.

Ø 160 max.

per piece

2802978

MDIII-250 duct sealing kit

Ø 250 max.

Ø 220 max.

per piece
---
Expanding Resin Specifications
| | | |
| --- | --- | --- |
| Properties | Unit | Value |
| Start time expansion | seconds | > 95 |
| End time expansion | minutes | 15 |
| Compressive strength | N / cm² | > 60 |
| Gas and water tightness 1,0bar | 30 days | no leakage |
| Density 10m water column | 30 days | no leakage |
| Volume consistency | cube 10 x 10cm | no change |
| Temperature Cycles, -20°C tot +40°C | 10 consecutive cycles | no leakage |
| Vibration test 10 Hz/amplitude 3mm | 240 hours | no leakage |
| Axial tensile force | diameter x 10 N | no leakage |
| Resistance to bending | cables 45° in 2 directions >250mm | no leakage |
| Expansion polyurethane foam in pipe | cm | < 40 |
| Temperature resistance | °C | +120 |
Chemical resistance
0,1N Na₂SO₄: 30 days - no degradation
0,1N NaCl: 30 days - no degradation
0,1N H₂SO₄: 30 days - no degradation
0,1N NaOH: 30 days - no degradation
Diesel: 30 days - no degradation
Gasoline: 30 days - no degradation
Resistance
Moulds: good
Rodents: good
Shelf life: months - minimal 30
Kit Contents
2 foam flanges
Self-adhesive foam strips
Expanding polyurethane filler
Screw nipple with filling tube
Set protective gloves
Sandpaper
Installation instructions
---
Find out more about our products or becoming a supplier