PFISTERER LV Piercing Connector Type 2 / S
Product overview
PFISTERER LV Piercing Connector Type 2 / S (332 710 021) is an insulated screw connector for low voltage cables with insulation-piercing contact geometry and shear bolts. The screw design ensures that the conductor is not damaged during installation. The connector has been designed so that contact protection as per IP2X is provided during the entire assembly sequence and there is also no danger of a short circuit.
Material: Body – Aluminium (tinned) | Bolt – Aluminium
Key Advantages
Piercing connector – no stripping of the individual wires with PVC, XLPE and PILC insulation.
Electrically and mechanically tested in accordance with IEC 61238-1.
Contact protection as per IP2X against electrical hazards, during all installation steps. Type 3 and above, plastic flaps prevent contact.
Easy, safe installation – ideal for live-line working – ensure occupational safety.
Assembly with standard tools. Once you reach optimal contact force, bolt gently breaks away at a suitable torque depending on the type.
Designed for resin based and injection joints.
Mountable side by side into a multiple block without additional material.
Shear off bolts prevent installation errors.
Compact design – less cast resin.
Creepage distance conform to EN 60664, Pollution Degree 1.
LV Piercing Connector Additional Features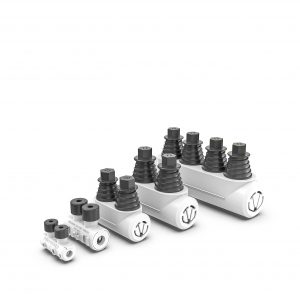 No preparatory work is necessary on the conductor (e.g. stripping). LV piercing connectors feature a piercing system that penetrates the conductor insulation and makes contact with conductor ends, regardless of the conductor cross-section, type and insulation.
A rotatable disc at the base of the bolt prevents damage to individual strands and ensures the correct contact force. The small size of LV piercing connectors make any subsequent work easier. Compact joints with cast resin mean that installer requires fewer resources for the installation.
There is no need for further accessories in order to place connectors close to each other. Type 1 and 2 feature a push-together system: join together multiple connectors to form a compact unit. With type 3 to 5, the elimination of the cover caps ensures the smallest possible dimensions.
---
For additional General and Technical Information on PFISTERER LV Piercing Connector Type 2 / S (332 710 021), please refer to the Technical Data Table below or download PDF File.
FREE Technical Advisory Service
E-Tech Components UK Ltd maintains a free technical advisory service.
Contact us for enquiries concerning this and all other products: +44 (0) 1744 762 929
Article No
Conductor Cross Section
AL Solid Circular
Conductor Cross Section
AL Stranded Circular
Conductor Cross Section
AL Solid Sector-shaped
Conductor Cross Section
CU Solid Circular
Conductor Cross Section
CU Stranded Circular
No of Screws

332 710 021

10-25 mm2
6-16 mm2
10-16 mm2
6-25 mm2
6-25 mm2

2
---
| | | | | | |
| --- | --- | --- | --- | --- | --- |
| Shear-off Torque | Surface |  Width Across Flats | Screw Type | Inspection Hole | Blind Hole |
| 7-9 Nm | Tinned | SW 6 | Shear bolt | No | Yes |
---
| | | | |
| --- | --- | --- | --- |
| Legth | Width | Height | Core Diameter |
| 58 mm | 27 mm | 38-46 mm | ∅ 9.5 mm |
Find out more about our products or becoming a supplier