Prysmian BICON Claw Cleat 370CG Series (Galvanised Cast Iron)
Product overview
Prysmian BICON Claw Cleat 370CG Series (Galvanised Cast Iron) is suitable for use with cables diameter 10 to 54mm. The Claw Cleat 370CG Series (Galvanised Cast Iron) is London Underground Approved (LUL).
Part Numbers: 370CG01, 370CG02, 370CG03, 370CG04, 370CG05, 370CG06, 370CG07, 370CG08, 370CG09
Galvanised Cast Iron Two Bolt Cleats also available for use with cable diameters 51 to 89mm.
Prysmian BICON Claw Cleat (370CG) Features
Suitable for use with cable diameters 10 – 54mm.
Hot dip galvanised finish on cast iron.
Two-piece, single fixing design.
Can be stacked to a maximum of three on one fixing..
Operating temperature -60°C to +105°C.
Can withstand a 2 hour excursion to 1000°C.
Can be used for all types of cable routes.
Packing pieces to be used where required.
Suitable for all environments.
LUL APR Product ID 1961.
Allows fire performance cables to meet the requirements of BS 6387:1994, BS 5839-1:2002, BS7346-6:2005 & BS8491:2008.
370CG01, 370CG03, 370CG05, 370CG08
FREE Technical Advisory Service
E-Tech Components UK Ltd maintains a free technical advisory service.
Contact us for enquiries concerning this and all other products: +44 (0) 1744 762 929
Used in

London Underground

Prysmian FP
| | | | | | | | | |
| --- | --- | --- | --- | --- | --- | --- | --- | --- |
| Design Number | Cable Diameter A (mm) Min | Cable Diameter A (mm) Max | Dimensions B Max | Dimensions C Max | Dimensions D Max | Dimensions E Max | Weight (g) | Stud Size |
| 370CG01 | 10 | 13 | 22 | 38 | 46 | 16 | 227 | M10 |
| 370CG02 | 13 | 16 | 22 | 38 | 46 | 16 | 208 | M10 |
| 370CG03 | 16 | 19 | 25 | 41 | 46 | 18 | 232 | M10 |
| 370CG04 | 18 | 22 | 28 | 45 | 46 | 19 | 279 | M10 |
| 370CG05 | 21 | 26 | 32 | 48 | 46 | 21 | 299 | M10 |
| 370CG06 | 25 | 32 | 37 | 54 | 46 | 24 | 319 | M10 |
| 370CG07 | 31 | 38 | 43 | 60 | 46 | 27 | 395 | M10 |
| 370CG08 | 36 | 46 | 53 | 67 | 46 | 30 | 492 | M10 |
| 370CG09 | 44 | 54 | 59 | 73 | 46 | 33 | 502 | M10 |
| | |
| --- | --- |
| Test Standard | EN 50368:2003 |
| Type | 6.1.1 Metallic |
| Impact Resistance | 6.2.5 V. Heavy |
| Lateral Load | 3.7 -> 8.2 kN |
| Axial Load | 1.332 -> 5.855 kN |
| Needle Flame |  >120 secs |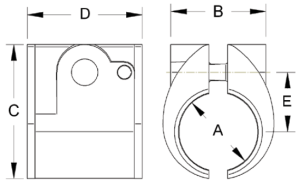 ---
Find out more about our products or becoming a supplier