Tidi-Cable Tidi-Patches Grade 2 (TC004)
Product overview
Tidi-Cable Tidi-Patches Grade 2 (TC004) are very fast to install and are also designed for finished surfaces. Tidi-Cable Patches are the only adhesive backed cable management product on the market with a damage-free adhesive backing and can be used on any finished surface. Ideal for the fit-out and finish stages of a construction project.
The stretch off adhesive strips on the back is suitable for finished surfaces such as painted walls, plastered walls, drywall, timber, glass and tile. Supplied with the two adhesive tabs that need attaching to the patch.
Tidi-Patches Grade 2 – Key Features
Perfect for painted/plastered walls
Stretch off backing, causing no damage to wall
Hold 6 x 110v arctic cables
Space every 2 metres
Max Load 1kg
Designed for finished surfaces
Manufactured in the UK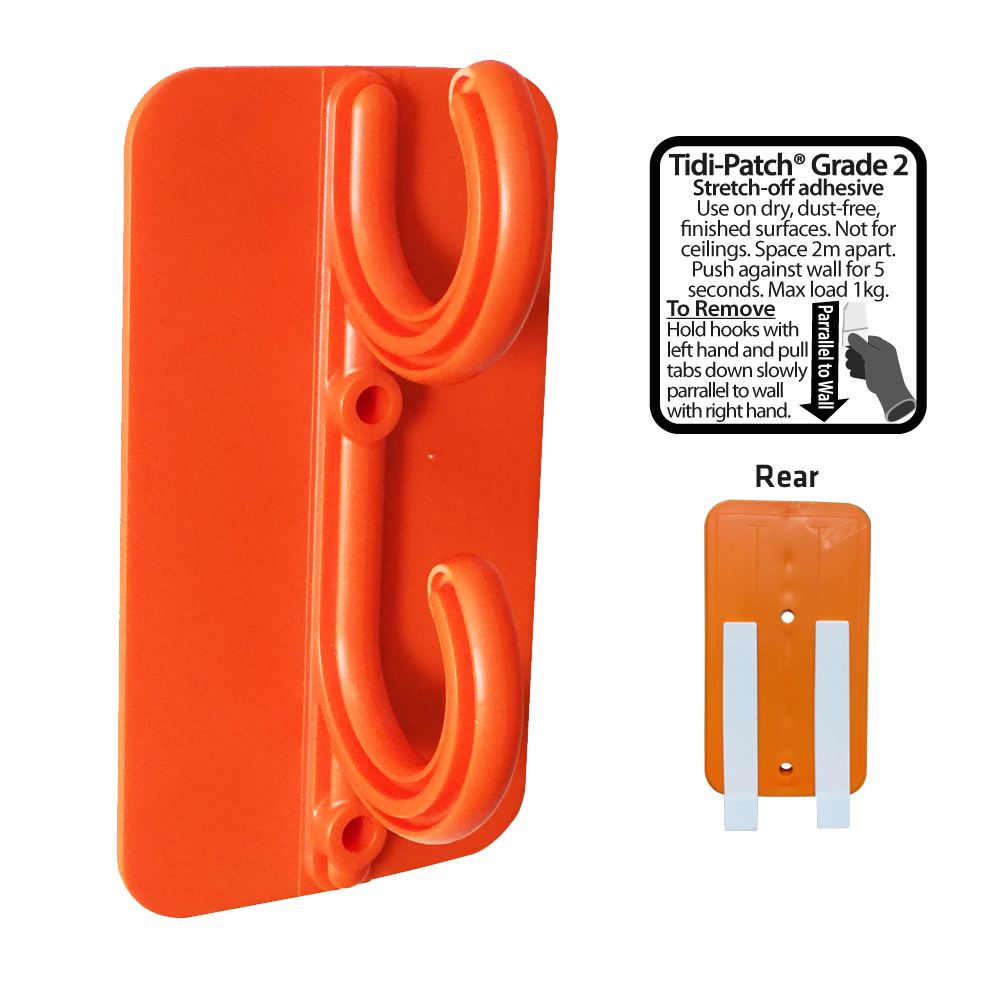 How to use: Tidi-Patches Grade 2
Peel off one side of the backing paper on the strips to reveal the adhesive and attach to the patch
Peel off the other side of the backing paper on the strips to reveal the adhesive and attach to the wall
Push the product against a smooth, dust-free surface for 5 seconds
Add up to 6 arctic cables (or 1kg of weight)
Repeat the process every 2 metres along the wall
Add or remove cables as required
Must pull down Tidi TC004 absolutely parallel to the wall
Take 15 seconds per strip
Hold patch firmly with other hand
Always practice removing patches on test surface
Note: 
We cannot guarantee that Grade 2 Tidi-Patches® won't remove the finishes on the surfaces you wish to stick them to. For this reason, we recommend that you test one on an identical surface before sticking them across your project. Tidi-Cable will happily supply up to 10 replacement strips to any UK customers who have purchased grade 2 Tidi-Patches® and have used some to carry out tests.
The product has been tested and then removed from a wall that had been painted 8 days prior to being photographed. The paint was magnolia Vectra® Matt Emulsion on a plastered wall, with no base coat. Ten identical tests like the one in the video were carried out, with none of them removing paint. A video of this is available upon request. A tiny residue remained, which installer wiped off with a damp cloth.
---
FREE Technical Advisory Service
E-Tech Components UK Ltd maintains a free technical advisory service.
Contact us for enquiries concerning this and all other products: +44 (0) 1744 762 929
| | | | | | | |
| --- | --- | --- | --- | --- | --- | --- |
| Product Code | Length | Width | Max Load | Max Load (10 mm arctic) | Material | Manufactured |
| TC004 | 115 mm | 60 mm | 1 kg | 9 x 10mm cables | ABS | UK |
Additional Information
Frequently Asked Questions
-What's the max load?
The max load is 1kg on any smooth, dust-free, dry, finished surface.
-How many 110v leads will each one carry?
Each grade 2 Tidi-Patch® can easily support 6 x 1.5mm 3 core 110v cables arctic cables.
-What size screw do I need?
The internal diameter of the screw hole is 5mm.
-What's the diameter of the hooks?
23mm.
-Can it hold armoured cable?
No, this product is designed for the fit-out phase where 110v trailing cables are the major tripping hazard.
-Are they available in different colours?
Yes, this product can be supplied in any colour upon request with a minimum order of 1000 units and a short lead time.
-Will this cause any damage when removed?
If removed properly, Tidi-Patches® Grade 2 don't cause any damage when removed. The stretch off strips need to be pulled inline with the surface they're fixed to in order to remove the adhesive via sheer force. If the strips are pulled away from the wall, they'll create a tearing force on any surface finished, such as paint, and may remove them.
-What are the suitable surfaces for this product?
This product is suitable for use on plastered walls, drywall, glass and any smooth surface. This product can be used on painted walls however we do not guarantee that it won't cause damage. We have extensively tested this product (please see the videos on this page) and not removed any paint, however this may not be the case on all types of painted walls. Tidi-Cable will not be liable for any damage caused to painted surfaces if Tidi-Patches® are used.
-Can this product be used on the ceiling?
This product can be used on the ceiling if screwed in place.
-How far apart should I space them?
Grade 2 Tidi-Patches should be spaced every 2 metres along the wall.
Find out more about our products or becoming a supplier