TTS Green Trough – Anti-Slip Walkway System
Product overview
TTS Green Trough – Anti-Slip Walkway System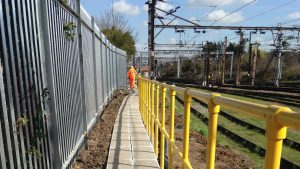 Trough-Tec Systems (TTS) Green Trough Anti-Slip Walkway (TS300W) is a combined cable trough and hard-wearing safe walkway developed in collaboration with Furukawa Electric.
The Green Trough Anti-slip Walkway System design provides a hard wearing and safe surface for troughing routes where a low to zero maintenance walkway is necessary. Made from 100% recycled polymer with a base weight of 13.5kg and lid weight of 14kg, individual units can be hand carried by one person. Each lid can be independently lifted maintaining a safe walking route whilst simultaneously giving access to cables. Lids can be screwed down to protect against theft and vandalism, and bases have a built-in security system allowing for the use of cable ties to further protect against cable theft.

Applications – Sectors
Green Trough has approvals for numerous applications worldwide. Its extensive product range together with its excellent mechanical properties make it ideal for a wide range of installations and cable types, including Construction Projects, Highways, Rail/ Traction, Renewable Energy, Power Plants, Stadiums, Airports, Data Centres and more.
Anti-Slip Walkway System Surface & Connection
The anti-slip walkway surface coating consists of a three component polyurethane based system. Used in combination with a 1mm granite aggregate dressing, this produces a durable slip and skid resistant  surface. Additionally, the walkway surface provides resistance to the build-up of electrostatic properties, producing 0.0kV when tested.
The walkway system comprises of two straight trough units assembled in parallel. They are connected with the help of two bolts, and can be delivered pre-assembled or in parts, ready to assemble on site.
For more information on TTS Green Trough – Anti-Slip Walkway System (TS300W), please advise Technical Data table or PDF Files below., 277670
FREE Technical Advisory Service
E-Tech Components UK Ltd maintains a free technical advisory service.
Contact us for enquiries concerning this and all other products: +44 (0) 1744 762 929
Green Trough
Antislip Walkway
Internal
Length
Internal
Width
Internal
Height
External
Length
External
Width
External
Height
Internal
Capacity

TS300W

1000 mm

600 mm

125 mm

1000 mm

780 mm

215 mm

72000 mm2
Find out more about our products or becoming a supplier