TTS Green Trough – Bend Series (45 Degrees)
Product overview
TTS Green Trough – Bend Series (
45 Degrees)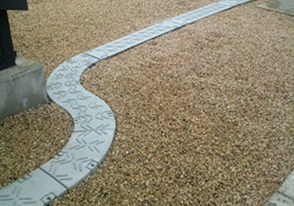 Trough-Tec Systems (TTS) Green Trough – 45 Degree Bend Series is a cable troughing system used for obstacle avoidance and shard bends. Simple and fast to install thanks to its low weight and intuitive joining mechanism and can be modified on site using basic hand tools. You can also create a 90 (or a 135) Degree Bend by installing two (or three) 45 Degree Bend Units one after the other.
TTS Cable Trough Bend Series is available in 6 different sizes: G90, G135, 150B, 200B, 300B, 430C.
Green Trough is the world's most versatile cable trough system that offers an innovative, environmentally friendly and state-of-the-art solution to cable route management. A genuine concrete replacement and a market leading range of cable troughs and accessories, to reduce installation time and associated costs. Powered by Furukawa Electric Group and Trough-Tec Systems.

Applications – Sectors
Green Trough is approved for numerous applications worldwide. Its extensive product range together with its excellent mechanical properties make it ideal for a wide range of installations and cable types, including Construction Projects, Highways, Rail/ Traction, Renewable Energy, Power Plants, Stadiums, Airports, Data Centres and more.
Green Trough
Benefits
Versatile: Straights (standard or with dividers), 45° Bends, Gradients (Upward or Downward) and T-junctions all available in 6 sizes, together with accessories and an elevated system to meet any requirement.
Sustainable: Green Trough is made from 100% recycled polymer. 4,000 tonnes of recycled household plastic waste is used to make Green Trough in one year. Equivalent to 268 million average-sized plastic bottles/ containers.
Extremely durable: 50+ year UV resistance. Suitable for use in -40°C to +80°C temperature range. Unique design allows for thermal expansion and contraction. Resistant to salt/snow melting agents and acid rain. Excellent impact resistance. Will not crumble like concrete.
Lightweight: Weighs 75% less than traditional concrete trough alternatives. All Green Trough items are a one-man lift.
Secure: Interlocking units: Each trough has a male and a female end, together with Lockable lids. A variety of lid fixings are available to suit security and access requirements.
Intuitive Joint: Joint system allows installer to avoid obstacles without the need for additional accessories. Straight units have up to 5 degrees vertical and horizontal flexibility.
Cost saving: Significantly reduces labour time and possession costs.
Compliant: Approved by Network Rail, New South Wales, Banedanmark and Japan Railways. Installed on major infrastructure projects since 2005.
Flame resistant: Halogen free and complies with IEC 61084-1 'Non-flame propagating' standard. K1 according to DIN 53438. Self extinguishes in under 30 seconds.
Strong: Can withstand 10kN/m vertical load and is safe to walk on.
Adjustable: Most Green Trough units can be manually shortened whilst still retaining an interlocking connection. Installers can process units on site using basic hand tools, with no dust.
Each Green Trough series is available with a clasp, screw or band type lid fixing, to suit a variety of installations.
Suitable for high voltage cables.
Anti-static.
For more information on Trough-Tec Systems Cable Trough – 45 Degree Bend Series (G90, G135, 150B, 200B, 300B, 430C), please advise Technical Data table or PDF Files below., 277670
FREE Technical Advisory Service
E-Tech Components UK Ltd maintains a free technical advisory service.
Contact us for enquiries concerning this and all other products: +44 (0) 1744 762 929
Green Trough
Bend Series (45°)
Width (A)
Degrees (a)
Radius (R)
Weight
Screw Type

G90

120 mm

45°

350 mm

2 kg

-

G135

170 mm

45°

350 mm

4 kg

-

150B

210 mm

45°

350 mm

5 kg

+

200B

270 mm

45°

350 mm

8 kg

+

300B

390 mm

45°

350 mm

13 kg

+

430C

540 mm

45°

350 mm

19 kg

+
Note: Includes two screws (or two clasps or one band) and a male-male adaptor.
Find out more about our products or becoming a supplier