Elpress Deep Earthing System & its benefits in today's technology-dense societies
Earthing Systems are a central part of all installations, both for operational and protection reasons, and their benefits are limitless. Wind turbines, radio-base stations, railway infrastructure, distribution networks and lightning protection are some of the industries where earthing is essential, as they feature exposed components, accessories, equipment. Especially wind turbines and radio base stations are typically situated in elevated and open terrains, making them extremely vulnerable to lightning strikes.
As these installations continue to get higher, protecting them against direct and indirect lightning currents becomes more crucial than ever before. This necessitates a significant investment and strict personal safety measures. The increasing prevalence of these two rapidly growing industries underscores the criticality of proper earthing and well-executed earth connections, which are where Elpress Deep Earthing Systems excel.
(Original Post by Elpress)
---
Why Elpress Deep Earthing System outperforms other Earthing Systems
Elpress designed its Deep Earthing System with a set of specific requirements in mind, aiming to outperform other earthing systems on several key fronts. Some of its primary objectives include the creation of a jointless system with a lengthy lifespan, corrosion resistance, simplicity in design, full control of the earth line during insertion/ installation, and continuous measurement of earth connection resistance during insertion into the ground.
"A solid earth connection is essential in light of the expanding society-wide use of wind power and the mounting number of radio base stations. The choice of earthing system and the implementation of earth connections are crucial aspects in preventing accidents/ personal injuries, as well as ensuring the protection of expensive equipment. Moreover, meeting these requirements in a cost-effective and durable way is crucial. These requirements, together with the right training for users, are becoming increasingly critical in today's market. This makes Elpress Deep Earthing Systems a safe and secure choice with very good overall economy." (Elpress CEO – Mattias Östman)
---
Main Benefits of the Elpress Deep Earthing System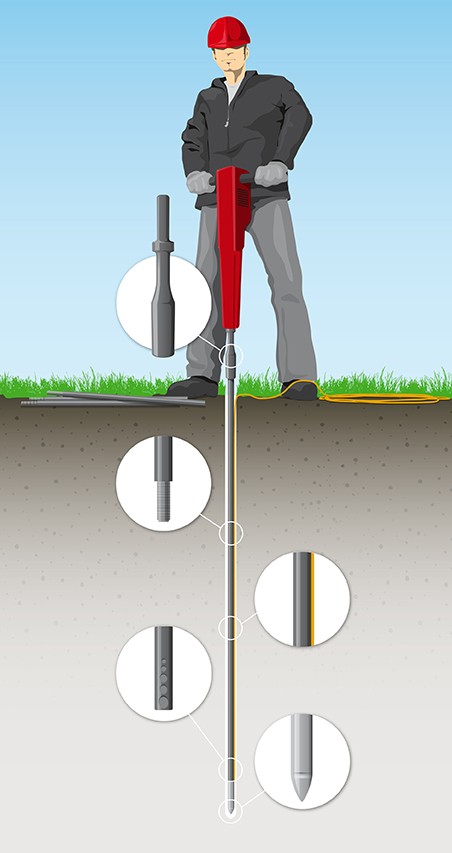 One of the primary benefits of the deep earthing system is its ability to continuously maintain control over the earth line during insertion. This is particularly important when working in ground conditions with a lot of stones or other obstacles. When using other systems, the earth line may shift to the side unnoticed during insertion. With the Elpress System, if that happens, the installer can immediately detect it and restart work accordingly. Additionally, no post-inspection is required after insertion since the system features a seamless earth line. Unlike other systems that rely on spliced parts, such as electrical conductors. Apart from the above-mentioned advantages offered, this also saves time and reduces overall costs.
Another key advantage of the Elpress Earthing System is the ability to continuously measure the earthing resistance during insertion/ installation. This enables installers to stop work once reaching the appropriate earth connection value, ensuring high-quality work and saving time and costs by not driving the earth line down further than necessary. That way installer uses as much material as needed, but as little as possible, while ensuring good electrical conductivity.
Lastly, the deep earthing system provides excellent resistance to corrosion, leading to a longer service life. When a copper line is used as an earth line, the steel extension rods act as sacrificial anodes, with relatively high corrosion current against the copper electrode. In this way, it is the steel rod that is attacked by the ground environment instead of the copper line. Other systems that rely on unprotected copper rods are more susceptible to direct corrosion. This results in a shorter service life and requiring post-checks and maintenance during operation.
---
The whole earthing system combines the copper electrode benefits and the benefits of steel driving studs:
Benefits of Copper Electrode
Completely corrosion-resistant

Optimal electrical conductivity and mechanical strength

Uninterrupted electrode up to the connection point

Suitable for connection to other earthing systems (e.g. foundation earthing)

No additional ground-termination needed
Benefits of Advancing Earthing Rods
Selection between two rods: standard (∅ 17 mm) and reinforced (∅ 21 mm).

Rods can be extended, if required.

Simple and quick advancing possible with all conventional power hammers.

Can insert using a power hammer or manually.

Always at optimum working height (10-110 cm above the ground).

Can pull back out the final extension pipe and use it again.

Steel rods offer protection to the electrode as a sacrificial anode.
---
E-Tech Components UK Ltd maintains a free technical advisory service. Don't hesitate to contact us for enquiries or any questions you may have, concerning this or any other product!
(Original Post by Elpress)
Follow link for more Blog Posts on: Earthing.