Nexans Expert Tool Kit – All the tools you need in one place!
As specialists in the field, we understand the wide range of cable preparation and cable fixing tools and solutions that are required by jointers and engineers. As such, we have combined all necessary tools in one kit, the Nexans Expert Tool Kit (E-Tech Part No: NPETK), which allows professionals to have all the expert tools they need in just one place! From Chamfering Tools and Insulation Removal Tools to scissors and measuring tapes, this tool kit features all the right tools!
Kit Part Numbers: ALROC LHA-60, BRMRD1E, LH2, MRA, PG4HTA3033, RIPLEY US15, US02-7000, KS2.
---
Nexans Expert Tool Kit Contents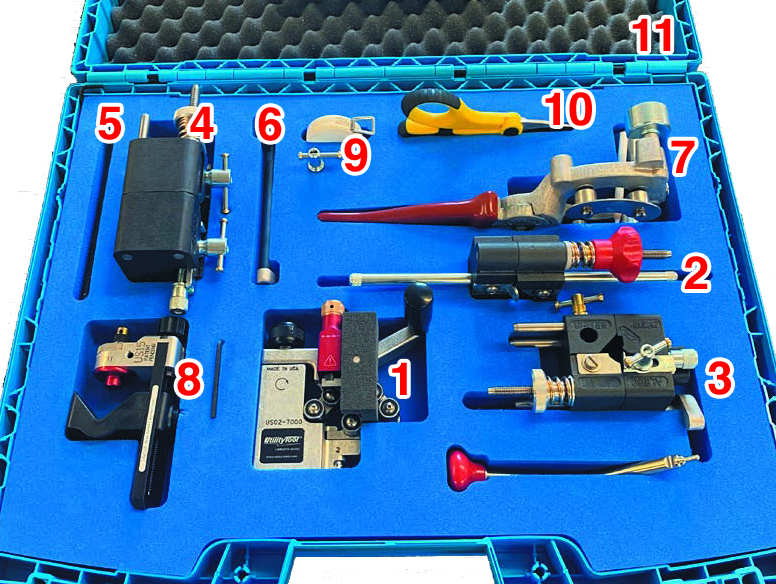 ---

Ripley US02-7000 quickly and easily removes bonded semi-con from 5 to 35 kV power cables. Its unique blade shape preserves the smooth surface on insulation, eliminating the need for deburring or additional surface finishing. Its optimal stability design securely supports cables with diameters from 0,71″ to 2,4″ (18 to 60 mm) throughout the shaving operation.

CABLE VOLTAGE CABLE SIZE: 5 kV to 35 kV
CABLE SIZE Ø: 0.71" – 2.4" (18 – 60 mm)
SEMI-CON THICKNESS: Up to 0.095" (2.4 mm)
CHAMFER ANGLE: 12°

---

2. ALROC CHAMFERING TOOL (LHA-60)

Alroc LHA/60 enables the user to realise a chamfer of 30° at the extremity of the insulation of MV cables.

DIAMETER: 0,551" – 1,575" (14 – 40 mm)
CHAMFER ANGLE: 30°
LENGTH: 10,433" (265 mm)
WIDTH: 4,134" (105 mm)
WEIGHT: 1,772" (45 mm)

---

3. ALROC INSULATION REMOVAL TOOL (BRMRD1E)

Alroc BRMRD1E enables the user to set the length and remove the insulation with a straight andneat cut on MV cables.

DIAMETER: 0,551" – 1,575" (14 – 40 mm)
INSULATION THICKNESS CAPACITY: 0,354" (9 mm)
LENGTH: 10,630" (270 mm)
WIDTH: 3,937" (100 mm)
HEIGHT: 6,496" (165 mm)

---

4. ALROC LARGE INSULATION REMOVAL TOOL (LH2)

Alroc LH2 enables the user to remove the insulation.

DIAMETER: 1,496 – 2,362" (38 – 60 mm)
MAX CUTTING DEPTH: 0,669" (17 mm)
LENGTH: 16,732" (425 mm)
WIDTH: 4,134" (105 mm)
HEIGHT: 3,346" (85 mm)

5. ALROC HANDLE FOR LH2

6. ALROC CABLE STOP FOR LH2

---

7. ALROC OUTER SHEATH REMOVAL TOOL (PG4HTA3033)

Alroc PG4HTA3033 enables the user to make a circular and longitudinal cut in order to remove cable's outer sheath.All cutting depth ranging from 0,5 mm/ 0,019 in to 5 mm/ 0,196 in are available on demand. How to built your customized pliers : PG4HTA/yyzz (yy = Circular cutting depth e.g : 30 = 3,0 mm / 0,118" | zz = Longitudinal cutting depth e.g : 33 = 3,3 mm / 0,130").

DIAMETER: 1,850" – 2,953" (47 – 75 mm)
CIRCULAR CUTTING THICKNESS CAPACITY: 0,118" (3,0 mm)
LONGITUDINAL CUTTING THICKNESS CAPACITY: 0,130" (3,3 mm)
LENGTH: 11,811" (300 mm)
WIDTH: 4,331" (110 mm)
HEIGHT: 4,134" (105 mm)

---

Ripley US15 is a versatile tool used to perform slit, ring and spiral cuts on cable diameters from 10 to 50 mm. Equipped with a hardened steel blade, the tool provides fast, safe and precise jacket removal from both hard and soft insulated cables without damaging the underlying layers.

CABLE DIAMETER(S): 0,39" – 1,96" (10 – 50 mm)
JACKET TYPES: HDPE – PE – PVC – Rubber
ADJUSTABLE BLADE DEPTH: 0,177" (4,5 mm)
LENGTH: 5,125" (130 mm)
WEIGHT: 8,82 oz (250 g)

---

9. ALROC CABLE MEASURE TAPE (MRA)

Alroc MRA tape is a metal tape used to measure the diameter of the cables according to its circumference and the stripping lengths to be performed. Features double-sided graduation with both metric and imperial units of measurement.

---

10. RIPLEY SCISSORS (KS2)

Ripley KS2 6" is a pair of Kevlar scissors with ergonomic, comfort grip shears designed to cut through tough Kevlar strength fibes. Micro-serrated stainless steel blades grip fibes, reducing slippage and producing clean cuts every time. Optional molded pouch with belt loop keeps the tool safely on hand.

---

11. ALROC CASE WITH FOAM CUT-OUTS

---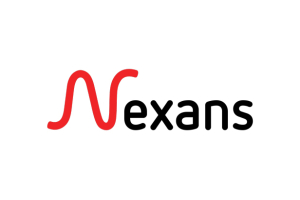 Nexans Power Accessories
Nexans is the leading European specialized innovator, manufacturer and distributor of LV, HV & HV accessories as well as connection technology for energy transmission and distribution networks. Wherever low or medium voltage cables are connected or energy transmission and distribution is required, they prove competence for critical links with reliable solutions.
As the Centre of Competence for cable accessories, Nexans' engineers and technicians have taken on responsibility for cable connection technologies in the Nexans Group. Their mission is to provide unique innovative products and solutions, supporting the world's electrification and envionmental challenges and electrifying the future!
US02-7000, Alroc LHA-60, BRMRD1E
Download PDF here  Check Nexans Rail Range here
---
Our team will answer any questions you may have regarding Nexans Expert Tool Kit (E-Tech NPETK) or any other power accessories products needed for your project. For additional information, contact us at:
sales@etechcomponent.com or +44 (0)1744 762 929