Furukawa AQUA Square Male Adaptor
Product overview
Furukawa AQUA Square Male Adaptor
Furukawa AQUA Square Male Adaptor is a jointing mechanism used when converting the intermediate part of the pipe to male structure, and to insert it to the female structured part. You can use this adaptor in any scenario where a male connector is necessary (eg. adjustment of pipe lengths, utilizing pipe ends etc.). When EFLEX Square ducts meet at the centre point of any given section, the conversion can be made using this AQUA Square accessory.
Features a non-woven, water-expansion cloth to preserve the watertight integrity of the cable route. Includes a single action locking clip on one side and a male adaptor with locking ring on the other. Requires no tools to connect – easy to join by hand using little force. Creates a watertight connection between a cut piece of EFLEX Square and the accessory.
Part Numbers: KDA-50-O, KDA-75-O, KDA-100-O, KDA-130-O, KDA-150-O

---
AQUA Square Male Connection Procedure
Apply lubrication to the rubber seal on the AQUA Square Male Adaptor and the inside of the female connector of EFLEX Square, to ensure the rubber seal is seated correctly. When completed, the rubber seal creates a watertight connection.
Ensure the connectors are free from dirt and debris and insert the Male Adaptor into the female connector of EFLEX Square.
Determine the cutting location on EFLEX Square, while allowing some overhang.
Cut along the built-in cutting guide.
Insert the cut end of EFLEX Square into the Male Adaptor.
Insert the single-action locking clip into the Male Adaptor, checking that the connection is secure by pulling in the opposite direction by hand.
For Sizes 130 & 150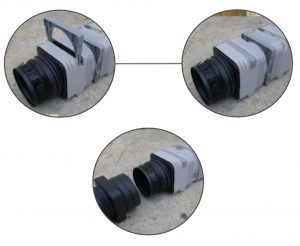 The AQUA Square Male Adaptor is not available for Size 130 and 150 EFLEX Squares. For these sizes it is possible to convert an AQUA Squares, by combining it with an EFLEX Square Male Adaptor.
Ensure the connections are free from dirt and debris and insert the EFLEX Male into the AQUA unit.
Remove the single-action locking clip from its holder and insert into the slot to secure the male end of EFLEX
---
System & Accessories

For more information on Furukawa AQUA Square Male Adaptor, please advise PDF Files below., 277670
FREE Technical Advisory Service
E-Tech Components UK Ltd maintains a free technical advisory service.
Contact us for enquiries concerning this and all other products: +44 (0) 1744 762 929
AQUA Square
Male Adaptor
Part Numbers
Total Length (L1)
Body Outer
Diameter (H)
Ring Length (L2)
Ring Width (W)
Total Weight 

Size 50

KDA-50-O

145±4 mm

85±3 mm

13.5±1 mm

85±3 mm

0.12 kg

Size 75

KDA-75-O

170±5 mm

113±4 mm

18±1 mm

113±4 mm

0.21 kg

Size 100

KDA-100-O

170±5 mm

138±4 mm

18±1 mm

138±4 mm

0.30 kg

Size 130

KDA-130-O

244±5 mm

162±5 mm

20±1.5 mm

176±5 mm

0.40 kg

Size 150

KDA-150-O

244±5 mm

184±5 mm

20±1.5 mm

198±5 mm

0.55 kg
Find out more about our products or becoming a supplier