Nexans Euromold T-HSBK Three Core Heat-Shrink Breakout Kit
Product overview
Nexans Euromold T-HSBK Three Core Heat-Shrink Breakout Kit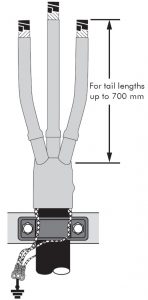 Nexans Euromold T-HSBK Three Core Heat-Shrink Breakout Kit used for sealing 3-core polymeric insulated cable crutches and earthing of the metallic screens and armour. Suitable for use with Euromold separable connectors with ground lead (/G) or with terminations.
Technical Characteristics
The installed breakout fullfills the requirements of IP54. The armouring and screen connection systems have short circuit rating (Isc) of up to 5,1 kA for 1s.
Design
T-HSBK Kit consists of (depending on cable type): a heat-shrinkable breakout, 3 sleeves of 500 mm, earth braid and roll springs, hose clamp, water sealing mastic and installation instructions.
For additional General and Technical Information, download PDF File.
FREE Technical Advisory Service
E-Tech Components UK Ltd maintains a free technical advisory service.
Contact us for enquiries concerning this and all other products: +44 (0) 1744 762 929
ORDERING INSTRUCTIONS FOR T-HSBK
To order the 3-core kit, select the part number, which gives you the best centering over the cable core insulation diameter and substitute X using table X, according to your cable type.
PART NUMBER
TYPICAL USE
CONDUCTOR SIZES
12, 17 & 24 kV
TYPICAL USE
CONDUCTOR SIZES
36 & 42 kV
DIAMETER OVER CORE INSULATION
DIAMETER OVER OUTER SHEATH
T-HSBK-20-XY
16-95 mm2

-

12-23 mm

50-70 mm

T-HSBK-30-XY
95-240 mm2
16-95 mm2

19-31 mm

60-80 mm

T-HSBK-40-XY
185-400 mm2
95-240 mm2

24-35 mm

70-90 mm

T-HSBK-50-XY

-

185-400 mm2

32-40 mm

80-100 mm

T-HSBK-60-XY

-

630 mm2

40-70 mm

100-120 mm
| | | | |
| --- | --- | --- | --- |
| SCREEN TYPE "X" | X | Y | ARMOUR TYPE "Y" |
| Individual Copper Tape Screen | DR1 | K | Unarmoured  |
| Individual Copper Wire Screen | DR2 | F | Armoured  |
| Common Copper Wire Screen | DR3 | |   |
Find out more about our products or becoming a supplier