TTS Green Trough – Accessories
Product overview
TTS Green Trough – Accessories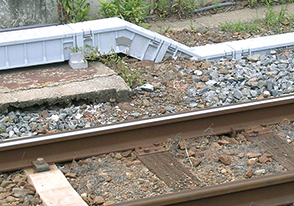 Trough-Tec Systems (TTS) Green Trough Accessories includes a range of parts that can be used for jointing different sizes of troughs, branching the trough route, supporting or elevating troughs or sealing their ends. TTS Accessories: End Plate, Jointing Plate/ Reducer, Junction Box, Elevated Bridge
Green Trough is the world's most versatile cable trough system that offers an innovative, environmentally friendly and state-of-the-art solution to cable route management. A genuine concrete replacement and a market leading range of cable troughs and accessories, to reduce installation time and associated costs. Powered by Furukawa Electric Group and Trough-Tec Systems.

Applications – Sectors
Green Trough is approved for numerous applications worldwide. Its extensive product range together with its excellent mechanical properties make it ideal for a wide range of installations and cable types, including Construction Projects, Highways, Rail/ Traction, Renewable Energy, Power Plants, Stadiums, Airports, Data Centres and more.
Green Trough
Accessories
End Plate

TTS End Plate used for sealing the end of troughs. Available for all cable troughing sizes for capping off route ends.

---

Jointing Plate/ Reducer

TTS Jointing Plate/ Reducer used for jointing different sizes of troughs.

---

Junction Box

TTS Junction Box used to branch the cable trough route.

---

Elevated Bridge

TTS Elevated Bridge includes Support Struts and Bridge used to elevate cable trough to higher or lower levels.

---
For more information on Trough-Tec Systems Green Trough Accessories, please advise Technical Data table or PDF Files below., 277670
FREE Technical Advisory Service
E-Tech Components UK Ltd maintains a free technical advisory service.
Contact us for enquiries concerning this and all other products: +44 (0) 1744 762 929
Find out more about our products or becoming a supplier