Special Offer: Elpress PVX611 Battery-Powered Crimp Tool
PVX611 Elpress Crimp Tool Highlights
Special Offer with reduced price for Elpress PVX611 Battery-Powered Crimp Tool and a discount on TB-dies from our KRF/KSF range. PVX611 is the latest tool of the Elpress V600 Crimping System, created with a new ergonomic design that offers you, the user, enhanced performance. It is 100% reverse compatible and designed for highest mobility and accessibility within machines and transformers. Another great feature of the pistol is a display that gives you valuable information about your tool (e.g. number of performed crimps, battery status, service intervals, etc). The PVX611 crimp pistol is supplied with a 2-year guarantee.
Elpress PVX611 – Datasheet      Campaign Information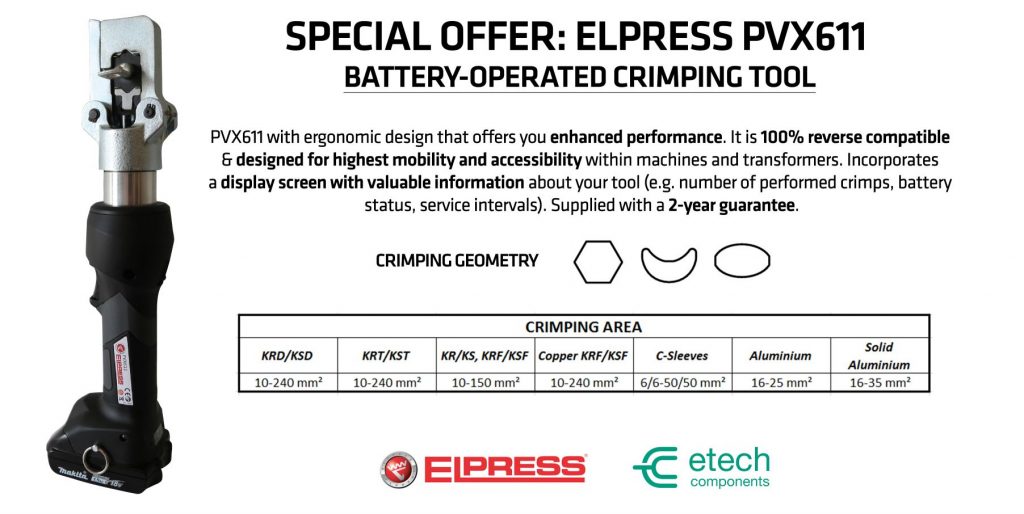 Crimping Data & Dimensions
Crimping Force: 55kN (6 ton)
Crimps per Charge: 150-250 depending on size and temperature
Crimp Time: 3-5 s
Temperature: -20 to +40 °C
Gross Weight: 5.5 kg (incuding battery)
Dimensions: 414 x 116 x 75 mm
Additional Features & Benefits
Ergonomic design optimizes the balance of the tool in the users hand

Crimp pressure control by electronic pressure monitoring

Single handed grip for easy operation

"Quick boost" for more efficient pressing

Adjustable crimping operation start with optional one or two 'click' trigger for safer handling of the tool

Press fork opened by rotary action

Protection against dirt & dust ingress through tool chassis

LED lighting for easier work

Elpress PVX611 Battery-Powered Crimp Tool incorporates a display screen that gives you valuable information about your tool:
Tool Status and Service interval

Pressure monitoring information when crimping at correct pressure

Warning light (LED) and sound when full pressure is not achieved

Number of performed crimps

LED indication of charge status

Information on when the next Service is due
Elpress PVX611 Crimping Dies
The Tool has been tested and approved for use together with Elpress TB-dies and KB-dies. Additionally, to meet the demand for a more lightweight tool to crimp winding conductors, Elpress have developed L-range* Dies for this tool. 
*letter L in Elpress naming convention indicates that it is designed to crimp winding conductors, in addition to Class 2 and Class 5 cables as per the IEC60228 standard.
elpress pvx611 offer
---