FALCON5: Concept Solution for Contact Crimping of Flexible Alu
Elpress have continuously developed their solutions to meet today and tomorrow's requirements of electrical applications and catch up with shifts in electrical system usage and component designs in different industry segments. FALCON5 is a new concept solution by Elpress to tackle the challenges related to crimping Flexible Aluminium Conductors and ensure reliability and repeatability for different kinds of applications.
(Original Post by Elpress)
---
TESTING & DEVELOPMENT
Elpress have been developing new solutions for electrical terminals for decades. Development, validation and testing take place at Elpress in cross-functional teams with high goals regarding functionality, durability, sustainability, repeatability and user-friendliness.
Their experience of high demands, in various purposes for electrical terminals, contributes to us developing solutions that meet both the prevailing international standards and the industry requirements in, among other things, wind and solar power plants, distribution and transmission networks and transformer, generator and vehicle manufacturing.
---
CONTACT CRIMPING SPECIALISTS
Elpress are constantly developing their solutions to meet the changes in conductor materials and their structure, as well as the changing industrial requirements of various segments. With the patented DUAL crimping technology, Elpress are the first in the world to introduce a technology as simple as comparable traditional crimping techniques, adapted and further developed for highly flexible copper conductors.
Repeatability and user-friendliness have been as much in focus as the functional requirements. The development of the crimping technology for flexible aluminium has had a heavy focus on customer value and focused primarily on further development of the tool systems, rather than adaptation of the terminals.
---
WHAT IS THE CHALLENGE WITH CRIMPING ALUMINIUM WIRES?
Aluminium wires in flexible conductors show much lower mechanical stress resistance. In order not to damage the wires, you must first perform a "soft" and "even" crimp. An oxide layer, which has good insulating properties, is immediately formed on the conductors' wires. Then, to break the oxide layer, you must carry out an "aggressive" crimp.
---
AND THE SOLUTION?
A combination of hexagonal and indented crimping that meets both challenges, combined in one and only crimping sequence.
1. The die pairs adapt to the external diameter of the sleeve, which means that you can use the same die pair for several nominal sizes.
2. For optimal mechanical durability, make a hexagonal crimp, which compresses the conductors' wires in a gentle way without damaging them.
3. The indented crimping then stretches the wires and breaks the oxide layer, which provides optimal and stable conductivity.
FALCON5 is based on further developed crimping technology and new tools. At the same time, however, it is used with the same reliable terminals that have been used for many decades. This empowers both us and the customer with security and incredible flexibility, because combining/ crimping flexible aluminium conductors can now be easily done with other conductor materials on the market.
---
CRIMPING FLEXIBLE ALUMINIUM WITH
| | | |
| --- | --- | --- |
| Class 1- Al | Class 2- Al | lClass 5- Al |
| Class 2- Cu | iClass 5- Cu | Class 6- Cu |
---
TERMINALS
9 sizes can be crimped with 6 die pairs in 2 tools with 1 crimping
* AS is a product example, the same applies to the sizes in the AK/AKS/AKK product programs.
---
FALCON5 CONCEPT SOLUTION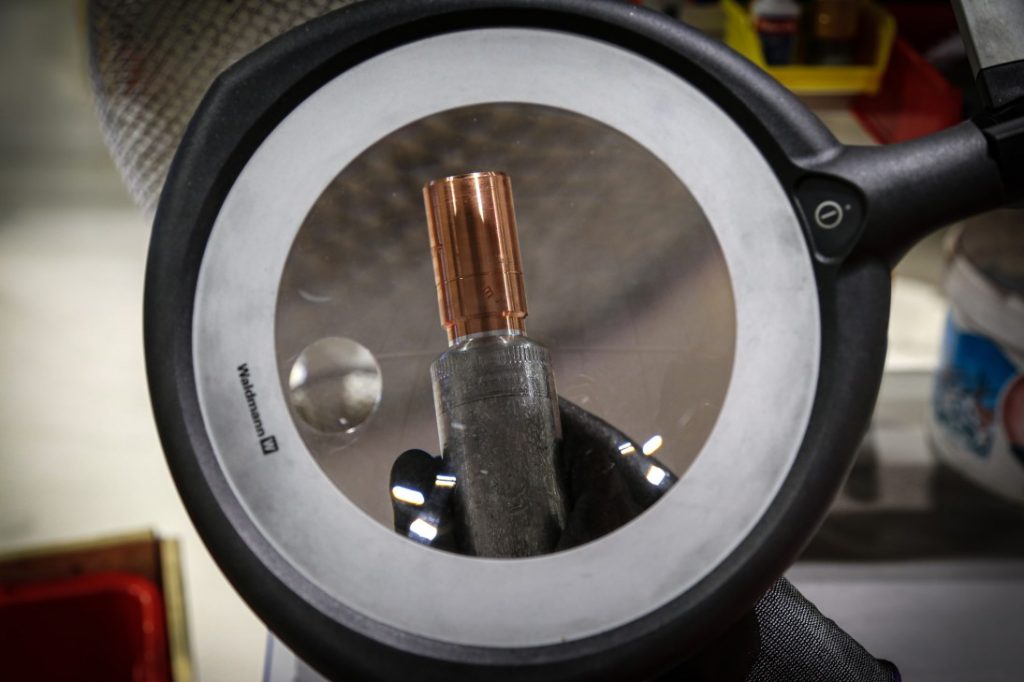 The Elpress Concept Solution for an optimal terminal with Flexible Aluminium Conductors (similar to IEC 60228 class 5) has been tested with very good operating properties during electric thermal cycling according to IEC 61238.
Further development of the concept involves tests and validations with different cable types from different manufacturers in project form. Contact us for more information.
FALCON5's test are according to IEC 61238-1-1: 2018 (Compression and mechanical connectors for power cables) for stable conductivity under electrical load. Additionally, FALCON5 is also tested for environmental stress in the form of corrosion and vibration. The connection is thus certified for the corrosion withstand requirements according to DIN V 40 046-37 and the vibration and withstand requirements according to IEC 61373: 2010.
Bimetallic terminals of the AKK / AKS / AKP types are manufactured in Sweden with precise processes to ensure the best quality for the final application. This includes checks of raw materials as well as continuous checks of processes, results and documentation.
Elpress' high demands for quality are self-evident – we never compromise on quality. "We check each individual bimetallic terminal by performing a stress test and an inspection. We indicate the quality check to the customer through the small 'E' stamped in the copper part of the terminal, something we will obviously continue to do," Torbjörn Norell assures us. (Elpress NEWS edition 2-2020 page 6).
---
APPLICATION IN DIFFERENT SEGMENTS
RENEWABLE ENERGY
For crimping flexible aluminium in the nacelle and a safe transition to transmission lines in the tower. Also for photovoltaic systems and the connections to converters and transformers.
RAILWAY
Weight reduction measure with flexible aluminum. With FALCON5 it is possible to combine copper and aluminium for maximum flexibility. IEC 61373: 2010 tested for railway applications.
VEHICLES
Vehicles of various types, including EV vehicles, will be able to benefit from flexible aluminium solutions in the future.
FALCON5 is a concept solution, which means ongoing adaptations of the program and project-oriented development of the technology according to the customer's wishes and requirements.
---
(Original Post by Elpress)