Product overview
Furukawa AQUA Connector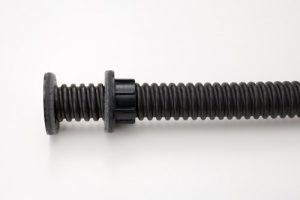 Furukawa AQUA Connector (AQUA-Nut and AQUA-Mouth) is used to provide a watertight interface for connecting EFLEX Square or EFLEX Round to plastic or concrete chambers/ catchpits. The connector requires no tools (can be installed in less than 1 minute) and features a non-woven, water-expansion cloth. Installed in less than 1 minute and fits any wall thickness.
Please note that EFLEX Square must be converted to EFLEX Round before using the Connector.
Part Numbers: FOKC-50, FOKC-80, FOKC-100, FOKC-130, FOKC-150

---
Connection Procedure
1. Cut a hole in the chamber/ catchpit according to the table below.
Connector Part No
Min-Max
Hole Diameter
Recommended
Size of Hole
FOKC-30
42-50mm
45mm
FOKC-40
58-65mm
60mm
FOKC-50
68-75mm
70mm
FOKC-65
89-96mm
90mm
FOKC-80
106-112mm
110mm
FOKC-100
135-141mm
135mm
2. Screw the AQUA-Nut onto EFLEX Round (or Converter to EFLEX Round).
3. Insert EFLEX into the chamber/ cathchpit wall.
4. From inside the chamber/ cathchpit, screw the AQUA-Mouth into EFLEX Round.
5. Hand-tighten the AQUA-Nut to the outside of the chamber/ cathchpit wall.
6. Please follow the 't' reference value in the below table when hand-tightening the AQUA Connector:
| | |
| --- | --- |
| Connector Part No | Reference value 't' |
| FOKC-30 | Approx. 6mm |
| FOKC-40,-50,-65,-80 | Approx. 7mm |
| FOKC-100 | Approx. 8mm |
---
System & Accessories

For more information on Furukawa AQUA Connector, please advise PDF Files below., 277670
FREE Technical Advisory Service
E-Tech Components UK Ltd maintains a free technical advisory service.
Contact us for enquiries concerning this and all other products: +44 (0) 1744 762 929
AQUA Connector
Part Numbers
AQUA Nut
Outer Diameter 
AQUA Nut
Total Length
AQUA Mouth
Outer
Diameter
AQUA Mouth
Inner
Diameter
AQUA Mouth
Total Length
Total Weight 

Size 50

FOKC-50

98±3 mm

40±3 mm

98±3 mm

44±3 mm

50±3 mm

0.15 kg

Size 75

FOKC-75

138±3 mm

60±3 mm

138±3 mm

73±3 mm

74±3 mm

0.32 kg

Size 100

FOKC-100

182±3 mm

73±3 mm

182±3 mm

92.5±3 mm

8138±3 mm

0.56 kg

Size 130

FOKC-130

213±5 mm 

90±5 mm 

213±5 mm 

108.5±5 mm

110±5 mm

1.0 kg

Size 150

FOKC-150

241±5 mm 

105±5 mm 

241±5 mm 

136±5 mm

129±5 mm

1.2 kg
Find out more about our products or becoming a supplier