Introducing our new Electrical Wholesaler Catalogue!
New Electrical Wholesaler Catalogue
We are excited to introduce you to our new Electrical Wholesaler catalogue (E-Tech Components Electrical Cable Accessories Catalogue 2018), bursting with High Quality Cable Accessories from the Major Manufacturers in the industry!
This is our first Shortform Catalogue and it contains our vast range of high quality, innovative and unique products and solutions from our stock at competitive prices. They are designed to save you time, improve your day-to-day work and ensure compliance to industry standards and regulations. Trade price lists to accompany this product catalogue are available upon request.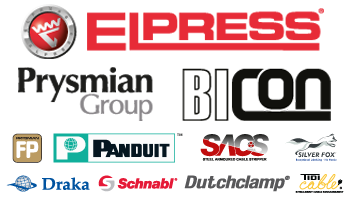 Leading Manufacturers
E-Tech stock, supply and specify for the Leading Manufacturers and High Quality Brands including Elpress, Prysmian – BICON Cable Accessories, Schnabl, Dutchclamp, SACS Tool, Tidi-Cable and many more brands that you and your customers can trust in. What differentiates us from our competitors is that we offer the best prices for UK and European Manufactured Cable Glands and Crimping Systems and more, and NOT just cheap products of dubious quality.
High Quality
High Quality is our core value. For E-Tech, quality means exceeding your requirements and expectations while complying with Industry Standards. We having been capitalising on our extensive knowledge and experience and we are proud to say that we distribute the highest quality Cable Accessories that meet all the necessary requirements and standards, and the highest quality Crimping Systems that comply with latest IEC and British Standards (IEC 61238, BS7609 and BS7727). [Read our article on British Standards for Crimping here.]
Huge Stock
The secret to our fast delivery and competitive prices is our Huge Stock. We stock a vast range of products and therefore we have enough stock on hand to meet your demands and deliver our products to you in no time!
Technical Support, Service, Tool Repair & Calibration
We saved you the best for last. E-Tech don't just offer certified and high quality solutions. We add to that a continuous channel of communication, support and service between E-Tech and our customers. To assist you, E-Tech offer Full Technical Support and Certified, On-site Training across our range of products and disciplines. Additionally, we provide In-house Tool Repair and Calibration facilities that make us unique in the electrical industry.
Contact us for more information or enquiries concerning products included in the catalogue and more:

Phone:
+44 (0) 1744 762 929
E-mail:

sales@etechcomponents.com



Download E-Tech's Electrical Cable Accessories Wholesaler Catalogue
Lagercrantz Group AB

E-Tech Components (UK) Ltd are a member of the Lagercrantz Group AB. Lagercrantz is a technology group that offers world-leading, value-creating technology, using either proprietary products or products from leading suppliers. The group consists of about 50 companies, each with a niche focus on a specific sub-market – a niche. High value-creation is common to all subsidiaries, including a high degree of customisation, support, service and other services.