Cue Dee Mini Swesite – 6364/ 6365/ 6366/ 6367/ 6368
Product overview
Cue Dee Mini Swesite (6364, 6365, 6366, 6367, 6368) consists of square 2 meter high sections. The side of the sections range from 600mm (23,6in) to 900mm (35,4in). Tapered sections are used to connect two different section sizes. It is available in heights from 12m (39ft) to 24m (79ft) which makes it possible to tailor just the right site to fit your needs. Cue Dee Product Nos: 6364, 6365, 6366, 6367, 6368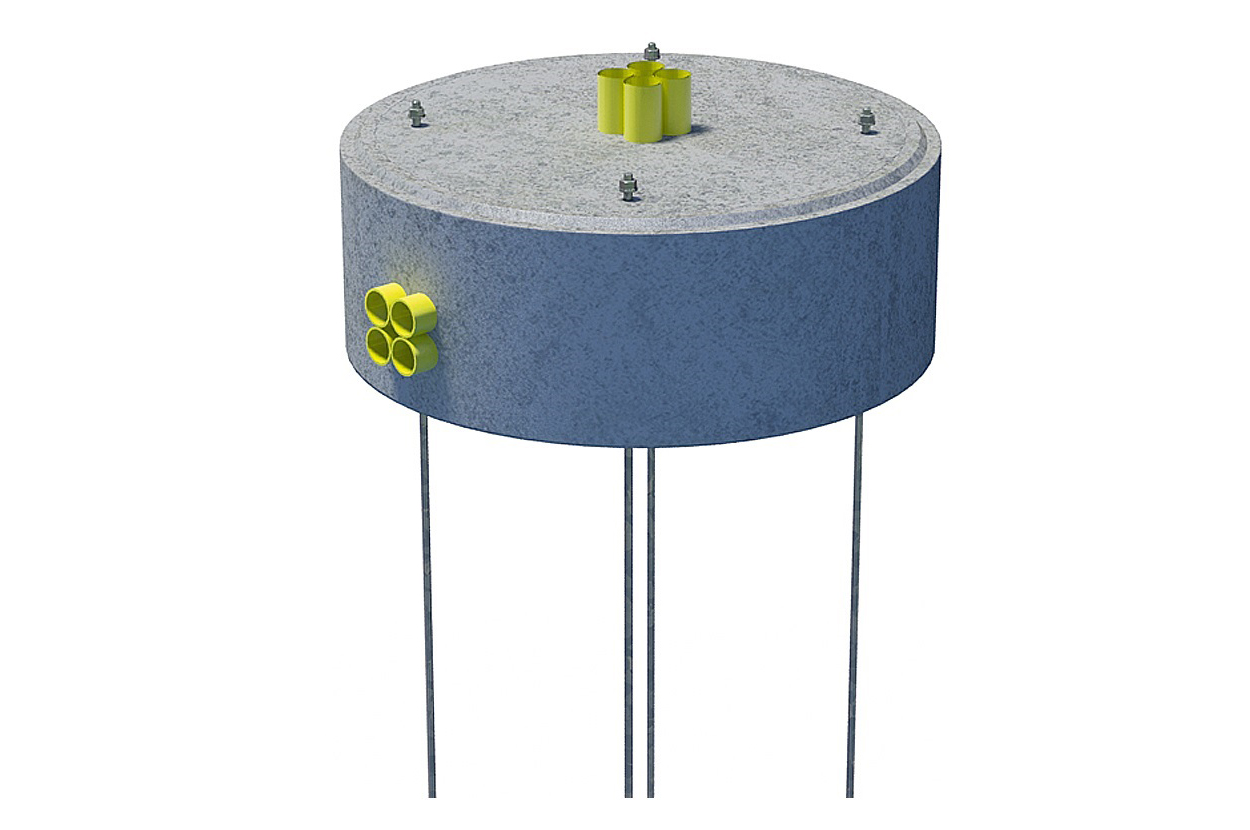 FOUNDATIONS: There are three different types of foundations available for the Mini Swesite. The rock and ground foundations have a very small footprint, no more then Ø1200 mm (47.2 in)! Of course this makes the Mini Swesite ideal for densely populated areas or other site locations where there is a shortage of site space.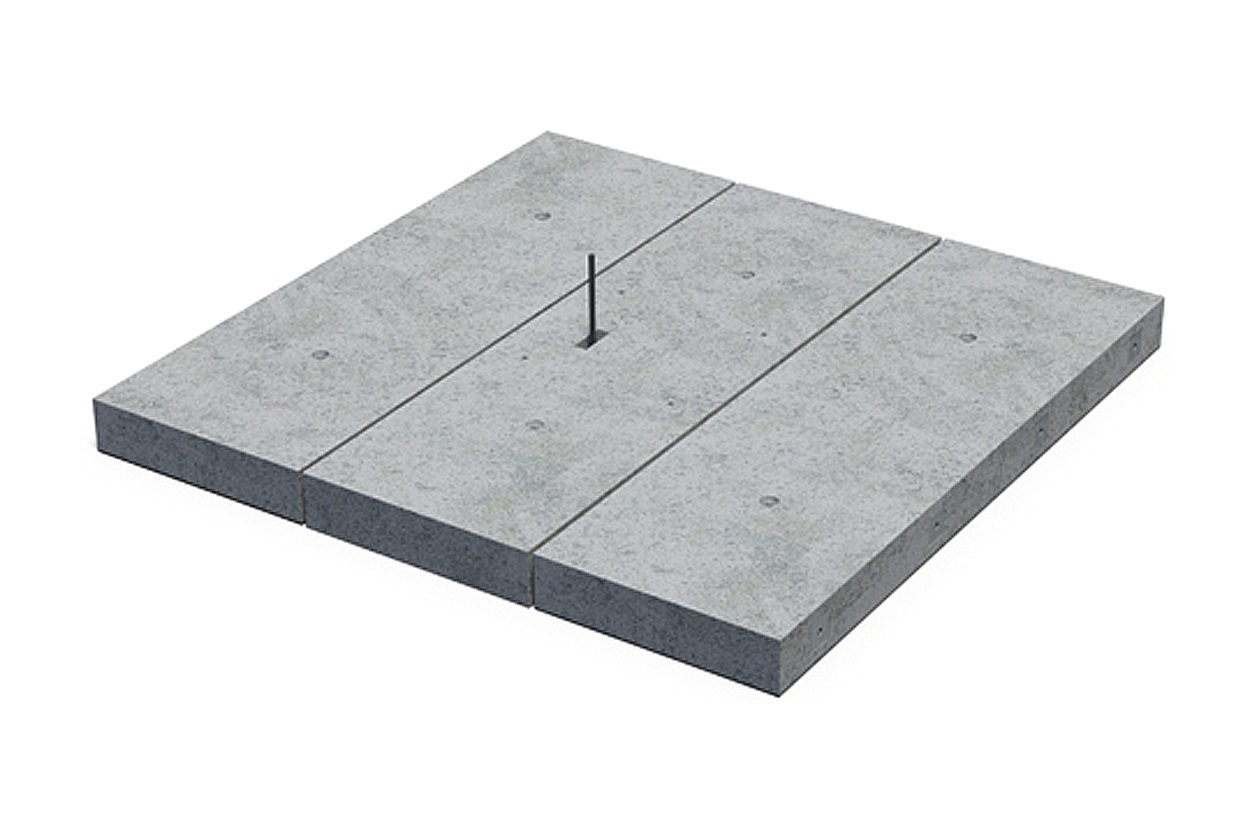 SLAB FOUNDATION ABOVE GROUND: Always prepare the ground with cable ducting for power cables and grounding. The central slab is prepared with a rectangular hole for the passage. If needed: Soil preparation with an insulating ground sheet to prevent frost.
| | | | |
| --- | --- | --- | --- |
| Size | Slab Weight | Slabs | Total Weight |
| Medium: 4 x 4 x 0,31m | 4tons (8818lb) | 3 | 12tons (26455lb) |
| Large: 4,8 x 4,8x 0,38m | 4,8tons (10582lb) | 4 | 19,2tons (42328lb) |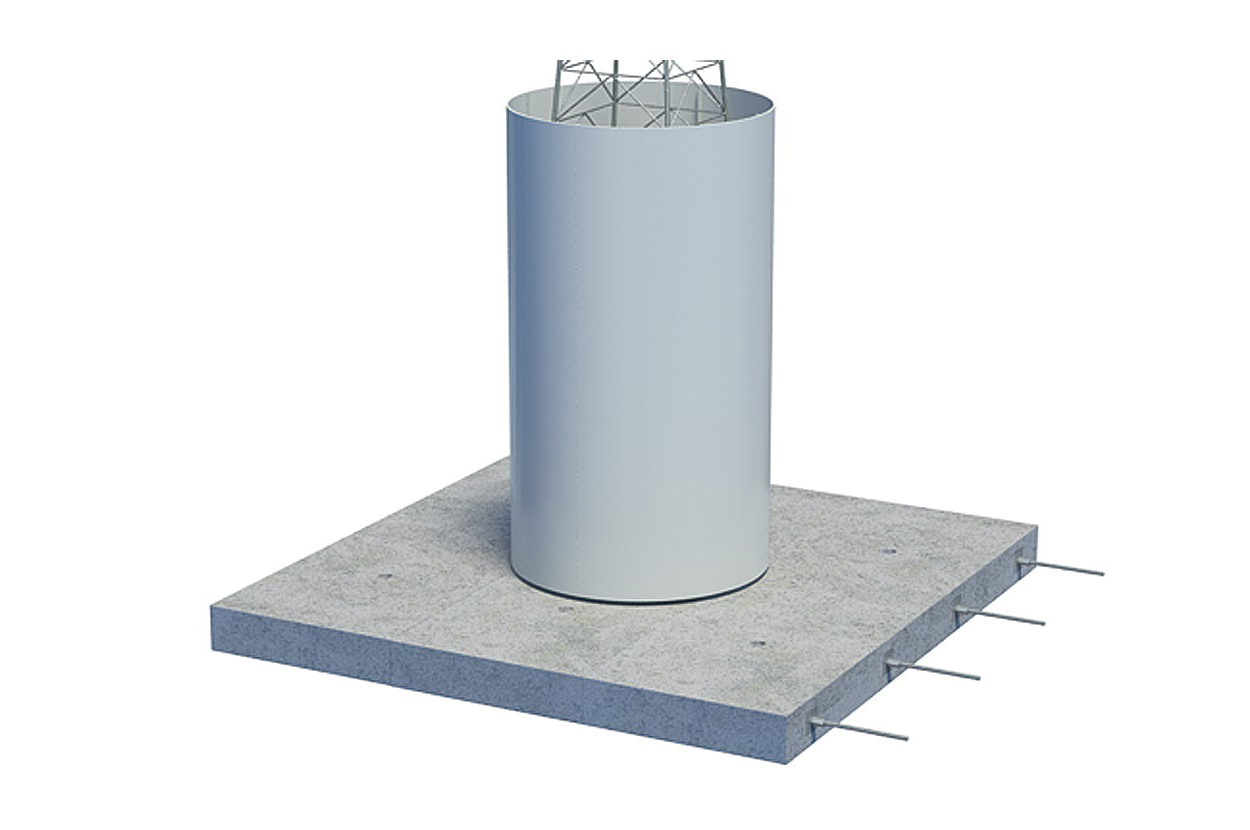 CYLINDRICAL SHELTER: The wall elements are resting on a rolling track with the wheels both in x and y direction which anchors the shelter but still keeps it rotatable. The door is equipped with removable handles and lock. The size of the cylindrical shelter is Ø1700mm (67in) and height 2900mm (114in).
ALL IN ONE SITE
Since the base station is located in the bottom section of the tower itself, there is no need for an external shelter. This gives many advantages such as a smaller footprint and shorter feeder cables. 
All equipment such as RRU's, feeder cables, base units, TMA's, filters etc. are secure inside the fiberglass shelter. This eliminates the risk of vandalism on the site. Apart from protecting the RRU´s the cylinder can be used as a billboard for advertisement. Installation can either be done manually with a gin pole or with a crane depending on site access.
QUALITY
The tower sections are made of galvanized steel components. This gives the system excellent corrosion resistance and a long life. All sections are an all welded design with solid steel frame legs. All Mini Swesites are calculated according to the Eurocode standard.
ACCESSORIES
Climbing barriers, lightning rods, booms, top spires, fall arrest system, obstruction lights, brackets, etc. are available on request.
FUNCTION DESCRIPTION
A telecom site with low visual impact, available in heights from 12 to 24 meters. Thanks to the protecting fiberglass cylinder and a very small footprint, the Mini Swesite is ideal for urban areas. Fast and easy installation, manually or with crane.
For Technical Details, consult the Performance Data table below.
Download PDF File for additional information on Cue Dee Mini Swesite (6364, 6365, 6366, 6367, 6368).
FREE Technical Advisory Service
E-Tech Components UK Ltd maintains a free technical advisory service.
Contact us for enquiries concerning this and all other products: +44 (0) 1744 762 929
OPTIMAL HEIGHT:
12-24m (39-79ft)
DESIGN STANDARDS:
TIA 222-G Eurocode 3, part 1-1, part 1-8 and part 3-1 DIN V 4131.
MATERIALS:
Legs S355, Braces S355, (K-600 Strong S460)
CONNECTIONS:
Bolts, nuts and washers class 8.8 according to EN ISO 4014, 4032
ANTI CORROSION:
All steel elements are hot-dip galvanised (ISO 1461).
Optional painting (red/white).
LADDER:
The K-System itself is a ladder, no external ladder is needed.
ANCHORING:
Anchor bolts grade 8 according to EN ISO 898-1:1999.
Positioning template.
ACCESSORIES:
Work and rest platforms, antenna supports, obstruction light, lightning protection kit.
DOCUMENTATION:
Detailed packing list installation manual foundation design.Detailed packing list installation manual foundation design.

NOTE: Please contact our sales department for configuration and optimizing of your K-Mast/Tower System.
Find out more about our products or becoming a supplier