Elpress GSA0760 Miniforce Crimping Tool (0.5-6mm²)
Product overview
Elpress GSA0760 Miniforce Crimping Tool (Range 0.5-6mm²) is a tested and certified mechanical Miniforce hand tool for symmetrical oval crimping of preinsulated terminals ranging between 0.5 and 6mm².
Locator that holds the terminal in the right position when crimping and facilitates working in tight spaces and simplifies the installation.
Die nests are easily checked with die nest gauge Elpress ESAQ0760 Crimping Inspection Tool.
Elpress GSA0760 Features
Locking function which only releases once crimping is complete
Release mechanism if the crimping process must be interrupted
Symmetrical and clearly marked crimping positions
Adjustable for changes after long use
Tested with Elpress Terminals
Unique mechanism that reduces maximum handle force from 450N down to 250N (model C)
Ergonomically designed handles to fit all users
Maximises the quality of work
Reduces the risk of repetitive strain injury (RSI) and other occupational injuries
Light and handy design without reduction in durability
Model C has extra long handles for the use of both hand
Withstands at least 80.000 crimps
Supplied with certificate for basic quality monitoring
General Information
SYSTEM ELPRESS
System Elpress consists of terminals and tools, designed and tested together to give a certified crimping result. This ensures that users will feel confident when using our systems. It also ensures the achievement of a secure connection through the proper handling of our products.
HYDRAULIC CRIMP SYSTEMS
Elpress hydraulic crimp systems crimp from 10 to 1200 mm². The systems consist of pumps and crimp heads that can be freely combined or with complete hand-held tools, where these devices are integrated. Wide range of accessories available for crimping, pre-rounding, cutting etc. Together with the matching terminals, they form  a complete system. Both pumps and hand-held tools have, with a few exceptions, quick feed function that means crimping can begin after a few pump strokes. The systems have a built-in ratchet lock that ensures the completion of the initial crimp and thus, produces results with the best characteristics.
For more information on Elpress GSA0760 Miniforce Crimping Tool (0.5-6mm²), consult PDF File or Technical Data Table below.
*Technical Data subject to change without notice.
FREE Technical Advisory Service
E-Tech Components UK Ltd maintains a free technical advisory service.
Contact us for enquiries concerning this and all other products: +44 (0) 1744 762 929
| | | | | |
| --- | --- | --- | --- | --- |
| Prod. Name | Crimp Range | Crimp Geometry | Net Weight | Dimensions |
| Elpress GSA0760 | 0.5-6 mm² (20-10 AWG) | Oval | 0,548 kg | 203 x 76 mm |
Technical Information
Follow the sequence (1) and (2) when placing the terminals into the locator.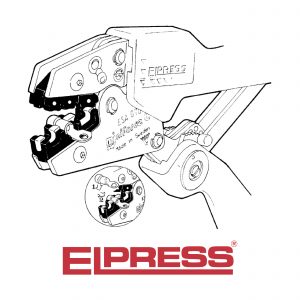 ---
Find out more about our products or becoming a supplier