Nexans 36-42JTS1 W (CS) MV Heat-Shrink Joints
Product overview
Nexans 36-42
JTS1 W (CS)
MV Heat-Shrink Joints
Nexans 36-42JTS1 W (CS) MV Heat-Shrink Joints are medium voltage heat-shrinkable straight joints with triple layer tube for Unarmoured Single Core Polymeric Cables with Copper Wire or Copper Tape Screen. Up to Umax 42kV. Nexans 36JTS1 W

Part Numbers: 36JTS1.95W-(CS), 36JTS1.240W-(CS), 36JTS1.300W-(CS), 36JTS1.400W-(CS), 42JTS1.95W-(CS), 42JTS1.240W-(CS), 42JTS1.300W-(CS), 42JTS1.400W-(CS)

Nexans 36-42JTS1 W (CS) Applications
36-42JTS1 W heat-shrinkable straight joints are designed for unarmoured, plastic insulated cables with Cu wire or Cu tape screen, to accommodate either crimped or mechanical connectors.
Key Benefits
Quick and Easy to install – saving labour time, with no additional retraining required.
Short and Slim design – with impressive range taking sizes.
Excellent Insulating Properties – for safer installations.
Advanced Screen Connection & Armour Continuity – for maximum control of fault currents.
Thick Walled Tubing for High Mechanical Strength and Impact Resistance.
Proof against Water Penetration & Chemical Aggression.
Stabilized UV Protection – for longevity outdoors.
Halogen Free Material Content – for safer use in enclosed spaces.
Made to measure Fire Resistant blankets if required.
LSOH outersheath as standard.
To fit single core and three core MV cables up to 36kV.
Easy access to Technical Support from our UK based technical staff.
Installation Video
Technical Characteristics & Design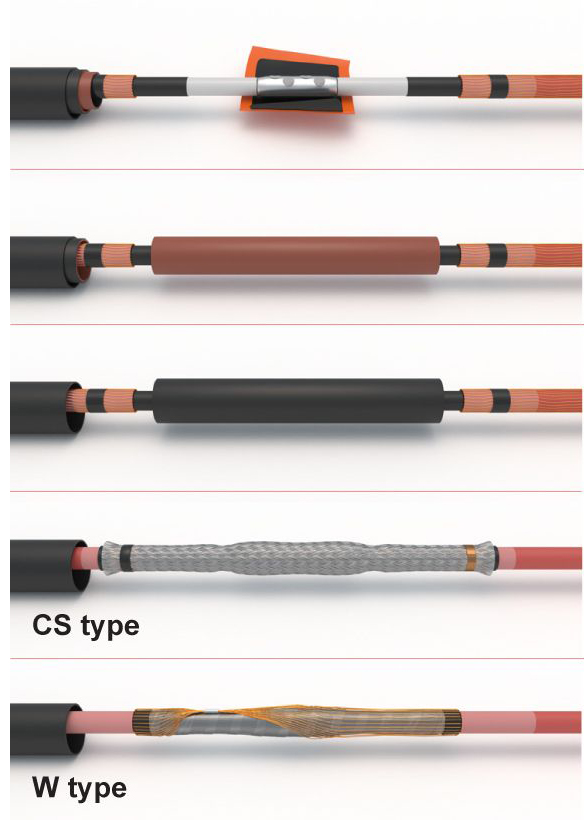 For 36 to 42 kV applications, the Nexans JTS 36/42 heat-shrinkable joint is also a high performance, compact and easy-to-install joint: double bodies with all the electrical functions integrated!
The JTS 36/42 is using an integrated coextruded "stress control field + insulating" (DUAL GT12) nested in a coextruded "insulating + conductive" tube (DUAL GT25), which can support voltage classes up to 42 kV.
A double layer pad with conductive rubber inside and HK orange mastic outside ensure a Faraday cage and smooth the effect of the electrical field and of the voltage gradient in the connector area.
The electrical continuity of the screen is ensured by a tinned copper stocking with roll constant force springs in case of copper wire/tape screen (CS type) or with a standard tinned copper tape plus an earthing ferrule in case of only copper wire screen (W type).
The outer sheath is restored with heavy wall adhesive lined tubing. MC types are supplied with "Nexans GPH" mechanical connectors.
Um
kV
Type
Section Range
(mm2)
Length
(mm)
DOI Insulation
(mm)
DOE Outer
(mm)
36
36JTS1.95W-(CS)
25÷95
600 (750 CS)
18-32
32-48
36
36JTS1.240W-(CS)
70÷240
750 (900 CS)
24-38
34-54
36
36JTS1.300W-(CS)
95÷300
750 (900 CS)
26-40
34-58
36
36JTS1.400W-(CS)
185÷400
750 (1000 CS)
28-44
38-62
42
42JTS1.95W-(CS)
25÷95
600 (750 CS)
20-34
34-50
42
42JTS1.240W-(CS)
70÷240
750 (900 CS)
26-42
38-54
42
42JTS1.300W-(CS)
95÷300
750 (900 CS)
28-46
40-60
42
42JTS1.400W-(CS)
185÷400
750 (1000 CS)
32-48
42-64
– 36JTS type tested with BIL at 200 kV

Additional Technical Data of Nexans 36-42JTS1 W (CS) MV Heat-Shrink Joints can be found on the table below. For more information, please advise PDF Files. Nexans 36JTS1 W
FREE Technical Advisory Service
E-Tech Components UK Ltd maintains a free technical advisory service.
Contact us for enquiries concerning this and all other products: +44 (0) 1744 762 929
| | | | | | |
| --- | --- | --- | --- | --- | --- |
| Um kV | TYPE | SECTION RANGE (mm2) | LENGTH (mm) | DOI INSULATION (mm) | DOE OUTER (mm) |
| 36 | 36JTS1.95W-(CS) | 25÷95 | 600 (750 CS) | 18-32 | 32-48 |
| 36 | 36JTS1.240W-(CS) | 70÷240 | 750 (900 CS) | 24-38 | 34-54 |
| 36 | 36JTS1.300W-(CS) | 95÷300 | 750 (900 CS) | 26-40 | 34-58 |
| 36 | 36JTS1.400W-(CS) | 185÷400 | 750 (1000 CS) | 28-44 | 38-62 |
| 42 | 42JTS1.95W-(CS) | 25÷95 | 600 (750 CS) | 20-34 | 34-50 |
| 42 | 42JTS1.240W-(CS) | 70÷240 | 750 (900 CS) | 26-42 | 38-54 |
| 42 | 42JTS1.300W-(CS) | 95÷300 | 750 (900 CS) | 28-46 | 40-60 |
| 42 | 42JTS1.400W-(CS) | 185÷400 | 750 (1000 CS) | 32-48 | 42-64 |
Find out more about our products or becoming a supplier