Prysmian BICON AXT Cable Gland Kit (423AX Series)
Product overview
Prysmian BICON AXT Cable Gland Kit (423AX Series) is an Indoor / Outdoor Cable Gland Kit, suitable for most climatic conditions, weatherproof and waterproof. The AXT is an industrial cable gland for wire braided cable where superior cable retention is required.
Part Numbers: 423AX-52, 423AX-53, 423AX-55
Prysmian 423AX Features
Indoor & outdoor type for flexible wire braided cable.
Brass indoor and outdoor gland and accessories.
For circular unarmoured, or wire braid or screened, plastic or rubber sheathed cables.
Superior retention capability.
Suitable for most climatic conditions, weatherproof and waterproof.
Technical Data
Suitable for use with CY & SY type cables
CuZn39Pb3 brass alloy used for guaranteed strength and performance
Complies with BS EN 50262
Gland rated to IP66 with use of suitable sealing washer or thread sealant at gland interface
Service temperature range -50°C to +200°C1989
Kit Contents
AXT Gland
2 x Flat Brass Washers
Brass Earth Tag
Steel Locknut
PVC Shroud
(2 per kit)
For more information on Prysmian BICON AXT Cable Gland Kit (423AX Series) (423AX-52, 423AX-53, 423AX-55) , please consult Datasheet below.
FREE Technical Advisory Service
E-Tech Components UK Ltd maintains a free technical advisory service.
Contact us for enquiries concerning this and all other products: +44 (0) 1744 762 929
| | | | | | | | | | |
| --- | --- | --- | --- | --- | --- | --- | --- | --- | --- |
| Design Reference | Size | Qty per Kit | Cable Diameter Ø (B) mm min | Cable Diameter Ø (B) mm max | Entry Thread (D) | Thread Length (E) | Protrusion Length (F) | Hexagon A/F (G) | Hexagon A/C (H) |
| 423AX-52 | 20S | 2 | 5.5 | 11.5 | M20 x 1.5 | 15 | 34 | 22 | 24.9 |
| 423AX-53 | 20 | 2 | 8.0 | 16.0 | M20 x 1.5 | 15 | 44 | 25.7 | 28.7 |
| 423AX-55 | 25 | 2 | 11.5 | 21.0 | M25 x 1.5 | 15 | 46 | 33.0 | 36.9 |
Technical Information
Suitable for use with CY & SY type cables
CuZn39Pb3 brass alloy used for guaranteed strength and performance
Complies with BS EN 50262
Gland rated to IP66 with use of suitable sealing washer or thread sealant at gland interface
Service temperature range -50°C to +200°C1989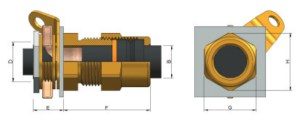 ---
Kit Contents
AXT Gland
2 x Flat Brass Washers
Brass Earth Tag
Steel Locknut
PVC Shroud
(2 per kit)