Elpress FBS1723 Stripping Tool for PEX Cable Insulation
Product overview
Elpress FBS1723 Stripping Tool for PEX Cable Insulation (MV XLPE cable) is a stripping tool for PEX insulation on medium voltage cable. Stripping can be done from Ø 15 to 52 mm, equivalent to cable 12 kV 50-1000 mm², 24 kV 25-1000 mm², 36 kV up to 630 mm² and 52 kV up to 500 mm². The cutting capacity of any cutting tool may vary due to conductor design, insulation thickness, hardness of materials, etc.
EAN code: 7393487039599
FBS1723 ACCESSORIES: FBS1723RS (Spare Blade), FBS1723SP (Silicone Paste)
Elpress FBS1723 Features
Elpress FBS1723 includes the actual tool, 100g silicone paste and an instructions for use, all in a padded plastic carry box.
The tool is easy to use – rotates with the handle.
Stripping from Ø 15mm up to Ø 52mm, corresponding to maximum sizes 50-1000mm² at 12kV, 25-1000mm² at 24kV, 630mm² at 36kV and 500mm² at 52kV.
Elpress FBS1723 cutting depth is easily set between 0 and 15mm.
Unlimited stripping length.
Adjustable feed in 5 positions.
Hardened blade, min HRC 55, and specially ground to specific shape and easy to replace when needed.
General Information
STRIPPING TOOLS
To strip insulation from cable there are the EMBLA, EMBLA RA, TOR and ODEN tools. They strip from approximately 0,02mm2 up to ∅ 40mm cable. The tools feature high precision, ergonomic adaptation, user friendliness and reliability.
CUTTING TOOLS
Tools are available in several variants for cutting Cu and Al cable up to approximately Ø 85mm. In addition to the simplest mechanical tools that cut cable up to Ø 20mm, there is a wide range of hydraulic tools for cutting cable up to approx 85mm.
The size of the conductor that the tools can handle mainly depends on the type of conductor to cut, whether it is a LV or MV cable and the class of the conductor. The hardness of the conductor's material also affects the results. For example, the PKL54C is capable of cutting type Cu FKKJ 4 x 95 mm2 low voltage cable or Al AKKJ 4 x 240mm2 or MV cable type Al AXLJ 3 x 150mm2. The insulation takes some space on the medium voltage cable which is why it can be restrictive.
TOOLS FOR PEX CABLE
Finally, for the preparation of medium voltage cables, 12-24 kV and removal of conducting layers and PEX insulation, tools FBS1722 and FBS1723 are available.
---
For more information on Elpress FBS1723 Stripping Tool for PEX Cable Insulation, consult PDF File or Technical Data Table below.
*Technical Data subject to change without notice.
FREE Technical Advisory Service
E-Tech Components UK Ltd maintains a free technical advisory service.
Contact us for enquiries concerning this and all other products: +44 (0) 1744 762 929
| | | | |
| --- | --- | --- | --- |
| Part No. | Max Ø Conductor | Net Weight | Dimensions (L x W x H) |
| Elpress FBS1723 | 15-52 | 1,072 kg | 275 x 220 x 65 mm |
| Elpress FBS1723RS (Spare Blade) | - | 0,001 kg | - |
| Elpress FBS1723SP (Silicone Paste) | - | 0,115 kg | - |
Technical Information
Image 1: Elpress Stripping Tool FBS1723 for MV XLPE cables
Image 2: Elpress Stripping Tool FBS1723 for MV XLPE cables KIT BOX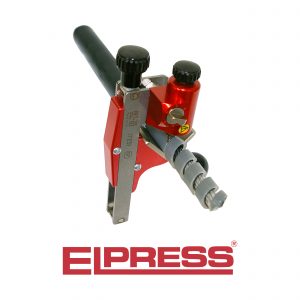 Find out more about our products or becoming a supplier