Prysmian BICON MRPJ-U Resin Cable Jointing Kit for Network Rail
Product overview
Prysmian BICON MRPJ-U Resin Cable Jointing Kit for Network Rail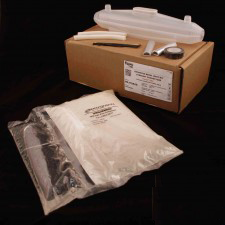 Prysmian BICON MRPJ-U Resin Cable Jointing Kit for Network Rail are enhanced non-toxic cold pour resin joint kits for connecting unarmoured signalling power distribution cable in accordance with NR/L2/SIGELP/27423
The products can be used in various configurations as detailed :
Connecting unarmoured aluminium signalling power distribution cable to unarmoured aluminium signalling power distribution cable
Connecting unarmoured aluminium signalling power distribution cable to unarmoured copper signalling power distribution cable when terminating into Apparatus Housings
Connection of legacy aluminium signalling power cables to aluminium cables produced in accordance with NR/L2/SIGELP/27408
Installation accessories for use in assembling these joint kits and the range of connectors within them, consists of specific crimp dies, pre-rounding dies and hydraulic crimp tooling as listed on PDF File (Page 7).
Each joint complies with testing requirements of BS EN 50393 Cat II in relation to electrical performance, mechanical strength and moisture resistance
The highly searching JEM resin both fully encapsulates the exposed cores and seals the incoming cables to prevent moisture ingress into the cable interstices
The enhanced compression connectors used within these joints are in accordance with the higher BS EN 61238-1 Class A specification which requires them to resist short circuit fault currents and withstand high tensile loads.
Expected service life of joints is equal to that of the cable
Impact resistant
Prysmian BICON MRPJ-U Resin Cable Jointing Kit was developed to meet the growing concerns regarding exposure to isocyanates in the workplace. JEM is a nonisocyanate system with all the technical performance characteristics of conventional resins but with additional features and benefits:
Low viscosity (very searching, no voids, easier mixing)
Easy mixing at low ambient temperatures (e.g. -15°C)
Curing reaction not sensitive to moisture (will cure under water)
Filled joints may be energised immediately if undisturbed
Supplied in clear pouches which allows mixing to be observed in process
Excellent adhesion to XLPE, PVC, Lead etc.
Tested in accordance with HD631.1
Features & Benefits
Enhanced resin joints for railway signalling power cables
For use with copper and aluminium conductors
Specifically designed to comply with Network Rail Product Specification NR/L2/SIGELP/27423
Network Rail PADS Certificate PA05/06494
Systemised tooling system
Joint kits fully tested to BS EN 50393 Cat II in relation to mechanical strength and moisture resistance
Connectors comply with BS EN 61238 Class A in relation to electrical performance
Prysmian MRPJ-U Applications
New Class II installations
SIN 119 remedial works
Maintenance, repairs and life extensions
Copper elimination programme
Prysmian BICON Cable Joints
For many years, BICON has been in the forefront of jointing technology, from designs using bituminous filling compounds, to the development of the highly successful BICAST acrylic resin jointing system.
Most recently , we have supplemented these ranges with heat shrink and pre-moulded products (BIMOLD) and can now offer a unique package to satisfy all requirements.
All four systems are available at voltages up to or above 33 kV and, depending on application, each may offer benefits over the others.
For instance, termination of high voltage polymeric cables requiring the facility to disconnect or add in additional cables at a later stage, means that BIMOLD is the logical choice. Likewise, BICAST provides a fast, comprehensive jointing method with a versatile range covering low and high voltage and all cable types.
Download PDF file for more information on Prysmian BICON MRPJ-U Resin Cable Jointing Kit for Network Rail.
*Technical Data subject to change without notice.
FREE Technical Advisory Service
E-Tech Components UK Ltd maintains a free technical advisory service.
Contact us for enquiries concerning this and all other products: +44 (0) 1744 762 929
Joints for Aluminium Conductors

Solid to Solid, Stranded to Stranded

Designs specific for same conductor type and size jointing (eg. 2 core 50mm2 SAC to 2 core 50mm2 SAC)

2 Core Solid Aluminium (A or C) : 2 Core Solid Aluminium (A or C)

CABLE IN
CABLE OUT
JOINT KIT
CRIMP DIE REFERENCE
Cable Type
Size (mm2)
Cable Type
Size (mm2)
Part No
PADS No
Shell Size
Pre-Round Die
Crimp Die
Solid Aluminium
2 x 16
Solid Aluminium
2 x 16
RPJ016A2S
0054/213266
J4
N/A
U10DHX
Solid Aluminium
2 x 25
Solid Aluminium
2 x 25
RPJ025A2S
0054/213267
J4
UD16PO
U10DHX
Solid Aluminium
2 x 35
Solid Aluminium
2 x 35
RPJ035A2S
0054/213268
J4
UD25PO
U12DHX
Solid Aluminium
2 x 50
Solid Aluminium
2 x 50
RPJ050A2S
0054/213551
J4
UD35PO
U14DHX
Solid Aluminium
2 x 70
Solid Aluminium
2 x 70
RPJ070A2S
0054/213552
J4
UD50PO
U16DHX
Solid Aluminium
2 x 95
Solid Aluminium
2 x 95
RPJ095A2S
0054/213553
J5
UD70PO
U18DHX
Solid Aluminium
2 x 120
Solid Aluminium
2 x 120
RPJ120A2S
0054/213554
J5
UD95PO
U22DHX
Solid Aluminium
2 x 150
Solid Aluminium
2 x 150
RPJ150A2S
0054/213555
J5
UD120PO
U22DHX
Solid Aluminium
2 x 185
Solid Aluminium
2 x 185
RPJ185A2S
0054/213556
J5
UD150PO
U25DHX
---
2 Core Stranded Aluminium (B) : 2 Core Stranded Aluminium (B)
CABLE IN
CABLE OUT
JOINT KIT
CRIMP DIE REFERENCE
Cable Type
Size (mm2)
Cable Type
Size (mm2)
Part No
PADS No
Shell Size
Pre-Round Die
Crimp Die
Stranded Aluminium
2 x 120
Stranded Aluminium
2 x 120
RPJ120A2F
0054/213557
J5
UD120PO
U22DHX
Stranded Aluminium
2 x 150
Stranded Aluminium
2 x 150
RPJ150A2F
0054/213558
J5
UD150PO
U25DHX
Stranded Aluminium
2 x 185
Stranded Aluminium
2 x 185
RPJ185A2F
0054/213559
J5
UD185PO
U28DHX
---
4 Core Solid Aluminium (A or C) : 4 Core Solid Aluminium (A or C)
CABLE IN
CABLE OUT
JOINT KIT
CRIMP DIE REFERENCE
Cable Type
Size (mm2)
Cable Type
Size (mm2)
Part No
PADS No
Shell Size
Pre-Round Die
Crimp Die
Solid Aluminium
4 x 16
Solid Aluminium
4 x 16
RPJ016A4S
0054/213560
J4
N/A
U10DHX
Solid Aluminium
4 x 25
Solid Aluminium
4 x 25
RPJ025A4S
0054/213561
J4
UD16PO
U10DHX
Solid Aluminium
4 x 35
Solid Aluminium
4 x 35
RPJ035A4S
0054/213562
J4
UD25PO
U12DHX
Solid Aluminium
4 x 50
Solid Aluminium
4 x 50
RPJ050A4S
0054/213563
J5
UD35PO
U14DHX
Solid Aluminium
4 x 70
Solid Aluminium
4 x 70
RPJ070A4S
0054/213564
J5
UD50PO
U16DHX
Solid Aluminium
4 x 95
Solid Aluminium
4 x 95
RPJ095A4S
0054/213565
J5
UD70PO
U18DHX
Solid Aluminium
4 x 120
Solid Aluminium
4 x 120
RPJ120A4S
0054/213566
J6
UD95PO
U22DHX
Solid Aluminium
4 x 150
Solid Aluminium
4 x 150
RPJ150A4S
0054/213567
J6
UD120PO
U22DHX
Solid Aluminium
4 x 185
Solid Aluminium
4 x 185
RPJ185A4S
0054/213568
J6
UD150PO
U25DHX
---
4 Core Stranded Aluminium (B) : 4 Core Stranded Aluminium (B)
CABLE IN
CABLE OUT
JOINT KIT
CRIMP DIE REFERENCE
Cable Type
Size (mm2)
Cable Type
Size (mm2)
Part No
PADS No
Shell Size
Pre-Round Die
Crimp Die
Stranded Aluminium
4 x 120
Stranded Aluminium
4 x 120
RPJ120A4F
0054/213569
J6
UD120PO
U22DHX
Stranded Aluminium
4 x 150
Stranded Aluminium
4 x 150
RPJ150A4F
0054/213570
J6
UD150PO
U25DHX
Stranded Aluminium
4 x 185
Stranded Aluminium
4 x 185
RPJ185A4F
0054/213571
J6
UD185PO
U28DHX
---
Solid to Stranded

Designs to allow the change from Solid Aluminium to Stranded Aluminium conductor type (eg. 50mm2 SAC to 50mm2 Str Al)

2 Core Solid Aluminium (A or C) : 2 Core Stranded Aluminium (B)

CABLE IN
CABLE OUT
JOINT KIT
CRIMP DIE REFERENCE
Cable Type
Size (mm2)
Cable Type
Size (mm2)
Part No
PADS No
Shell Size
Pre-Round Die
Crimp Die
Solid Aluminium
2 x 16
Stranded Aluminium
2 x 16
RPJ016FTS2
0054/213592
J4
N/A
U10DHX
Solid Aluminium
2 x 25
Stranded Aluminium
2 x 25
RPJ025FTS2
0054/213593
J4
UD16PO
U10DHX
Solid Aluminium
2 x 35
Stranded Aluminium
2 x 35
RPJ035FTS2
0054/213594
J4
UD25PO
U12DHX
Solid Aluminium
2 x 50
Stranded Aluminium
2 x 50
RPJ050FTS2
0054/213595
J4
UD35PO
U14DHX
Solid Aluminium
2 x 70
Stranded Aluminium
2 x 70
RPJ070FTS2
0054/213596
J5
UD50PO
U16DHX
Solid Aluminium
2 x 95
Stranded Aluminium
2 x 95
RPJ095FTS2
0054/213597
J5
UD70PO
U18DHX
Solid Aluminium
2 x 120
Stranded Aluminium
2 x 120
RPJ120FTS2
0054/213598
J5
UD95PO
U22DHX
Solid Aluminium
2 x 150
Stranded Aluminium
2 x 150
RPJ150FTS2
0054/213599
J5
UD120PO
U22DHX
Solid Aluminium
2 x 185
Stranded Aluminium
2 x 185
RPJ185FTS2
0054/213600
J5
UD150PO
U25DHX
Stranded Aluminium
2 x 120
Solid Aluminium
2 x 120
RPJ120FTF2
0054/213601
J5
UD120PO
U22DHX
Stranded Aluminium
2 x 150
Solid Aluminium
2 x 150
RPJ150FTF2
0054/213602
J5
UD150PO
U25DHX
Stranded Aluminium
2 x 185
Solid Aluminium
2 x 185
RPJ185FTF2
0054/213603
J5
UD185PO
U25DHX
---
Joints for Copper Conductors

Designs specific for same conductor type and size jointing (eg. 2 core 50mm2 Str Cu to 2 core 50mm2 Str Cu)

2 Core Copper (D or E) : 2 Core Copper (D or E)

CABLE IN
CABLE OUT
JOINT KIT
CRIMP DIE REFERENCE
Cable Type
Size (mm2)
Cable Type
Size (mm2)
Part No
PADS No
Shell Size
Pre-Round Die
Crimp Die
Copper
2 x 10
Copper
2 x 10
RPJ010C2
0054/213572
J3
N/A
U6DHX
Copper
2 x 16
Copper
2 x 16
RPJ016C2
0054/213573
J4
N/A
U8DHX
Copper
2 x 25
Copper
2 x 25
RPJ025C2
0054/213574
J4
UD25PO
U10DHX
Copper
2 x 35
Copper
2 x 35
RPJ035C2
0054/213575
J4
UD35PO
U12DHX
Copper
2 x 50
Copper
2 x 50
RPJ050C2
0054/213576
J4
UD50PO
U14DHX
Copper
2 x 70
Copper
2 x 70
RPJ070C2
0054/213577
J4
UD70PO
U16DHX
Copper
2 x 95
Copper
2 x 95
RPJ095C2
0054/213578
J5
UD95PO
U18DHX
Copper
2 x 120
Copper
2 x 120
RPJ120C2
0054/213579
J5
UD120PO
U20DHX
Copper
2 x 150
Copper
2 x 150
RPJ150C2
0054/213580
J5
UD150PO
U22DHX
---
4 Core Copper (D or E) : 4 Core Copper (D or E)
CABLE IN
CABLE OUT
JOINT KIT
CRIMP DIE REFERENCE
Cable Type
Size (mm2)
Cable Type
Size (mm2)
Part No
PADS No
Shell Size
Pre-Round Die
Crimp Die
Copper
4 x 10
Copper
4 x 10
RPJ010C4
0054/213582
J4
N/A
U6DHX
Copper
4 x 16
Copper
4 x 16
RPJ016C4
0054/213583
J4
N/A
U8DHX
Copper
4 x 25
Copper
4 x 25
RPJ025C4
0054/213584
J4
UD25PO
U10DHX
Copper
4 x 35
Copper
4 x 35
RPJ035C4
0054/213585
J4
UD35PO
U12DHX
Copper
4 x 50
Copper
4 x 50
RPJ050C4
0054/213586
J5
UD50PO
U14DHX
Copper
4 x 70
Copper
4 x 70
RPJ070C4
0054/213587
J5
UD70PO
U16DHX
Copper
4 x 95
Copper
4 x 95
RPJ095C4
0054/213588
J5
UD95PO
U18DHX
Copper
4 x 120
Copper
4 x 120
RPJ120C4
0054/213589
J5
UD120PO
U20DHX
Copper
4 x 150
Copper
4 x 150
RPJ150C4
0054/213590
J5
UD150PO
U22DHX
Copper
4 x 185
Copper
4 x 185
RPJ185C4
0054/213591
J5
UD185PO
U25DHX
---
Bi-Metal Joints for Copper / Aluminium

Designs to allow Aluminium Conductors to be joined to Copper Conductors

CABLE IN
CABLE OUT
JOINT KIT
CRIMP DIE REFERENCE
Cable Type


Size (mm2)


Cable Type


Size (mm2)


Part No


PADS No


Shell Size


Aluminium Side

Copper Side
Pre-Round Die
Crimp Die
Pre-Round Die
Crimp Die
Solid Aluminium
2 x 70
Copper
2 x 25
RPJ0700252B2S
0054/213604
J4
UD50PO
U16DHX
UD25PO
U10DHX
Solid Aluminium
2 x 95
Copper
2 x 25
RPJ0950252B2S
0054/213605
J4
UD70PO
U18DHX
UD25PO
U10DHX
Solid Aluminium
2 x 120
Copper
2 x 25
RPJ1200252B2S
0054/213607
J4
UD95PO
U22DHX
UD25PO
U10DHX
Solid Aluminium
2 x 150
Copper
2 x 25
RPJ1500252B2S
0054/213609
J4
UD120PO
U22DHX
UD25PO
U10DHX
Solid Aluminium
2 x 185
Copper
2 x 25
RPJ1850252B2S
0054/213611
J4
UD150PO
U25DHX
UD25PO
U10DHX
Solid Aluminium
2 x 95
Copper
2 x 50
RPJ0950502B2S
0054/213606
J5
UD70PO
U18DHX
UD50PO
U14DHX
Solid Aluminium
2 x 120
Copper
2 x 50
RPJ1200502B2S
0054/213608
J5
UD95PO
U22DHX
UD50PO
U14DHX
Solid Aluminium
2 x 150
Copper
2 x 50
RPJ1500502B2S
0054/213610
J5
UD120PO
U22DHX
UD50PO
U14DHX
Solid Aluminium
2 x 185
Copper
2 x 50
RPJ1850502B2S
0054/213612
J5
UD150PO
U25DHX
UD50PO
U14DHX
---
CABLE IN
CABLE OUT
JOINT KIT
CRIMP DIE REFERENCE
Cable Type


Size (mm2)


Cable Type


Size (mm2)


Part No


PADS No


Shell Size


Aluminium Side

Copper Side
Pre-Round Die
Crimp Die
Pre-Round Die
Crimp Die
Stranded Aluminium
2 x 120
Copper
2 x 25
RPJ1200252B2F
0054/213613
J5
UD120PO
U22DHX
UD25PO
U10DHX
Stranded Aluminium
2 x 150
Copper
2 x 25
RPJ1500252B2F
0054/213615
J5
UD150PO
U25DHX
UD25PO
U10DHX
Stranded Aluminium
2 x 185
Copper
2 x 25
RPJ1850252B2F
0054/213617
J5
UD185PO
U28DHX
UD25PO
U10DHX
Stranded Aluminium
2 x 120
Copper
2 x 50
RPJ1200502B2F
0054/213614
J5
UD120PO
U22DHX
UD50PO
U14DHX
Stranded Aluminium
2 x 150
Copper
2 x 50
RPJ1500502B2F
0054/213616
J5
UD150PO
U25DHX
UD50PO
U14DHX
Stranded Aluminium
2 x 185
Copper
2 x 50
RPJ1850502B2F
0054/213618
J5
UD185PO
U28DHX
UD50PO
U14DHX