Silver Fox Fox-in-a-Box Thermal Printer Starter Kit
Product overview
The Silver Fox Fox-in-a-Box Thermal Printer Starter Kit is an ideal, cost-effective solution for printing large volumes of labels. Silver Fox offer 3 levels of the Fox-in-a-Box Thermal Printer Starter Kit: Basic (FIAB-BAS), Advanced (FIAB-ADV), Professional (FIAB-PRO), alld of which use the DTP-1/300 Plug 'n' Play Thermal Printer.
Includes everything you need in order to print our complete range of thermal labels which includes Fox-Flo, Fox labels, tie-on cable labels, heat shrink, non-shrink, Asset labels, Raised Profile labels, Valve Tags, 2-Part labelling system, Warning labels and wrap-around labels.
Contents Include:
DTP-1/300 Plug'N'Play Thermal Printer
Silver Fox Labacus Innovator Software (Choice of Basic, Advanced or Professional version dependent on functionalities required)
TSR3/300 300m Thermal Ribbon*
USB printer cable
Quick-start setup manual
Full Technical Support
* Depending on labels ordered with the Silver Fox Fox-in-a-Box Thermal Printer Starter Kit.
The same printer and ribbon are shared at all levels. This common platform protects your investment and ensures the Silver Fox solution is easy and straightforward to use while at the same time offering a seamless upgrade from one level to another.
Your investment is further protected as our software automatically updates over the web, giving you the latest functionality.
The same software that drives Fox-in-a-Box® also includes our laser templates. These templates cover our full range of laser labels. Print laser labels with any standard office laser printer.
Tip- Turn time into profit!
FEATURES AND BENEFITS
Change and print labels seamlessly.
Automatic USB port identification.
Same software, same printer, same ribbon for all thermal labels.
3 levels of software.
Seamlessly upgrade.
Everything in one box.
Software updates FOC.
Quiet in operation.
Free support.
Silver Fox Fox-in-a-Box Thermal Printer Starter Kit Levels
Silver Fox offer 3 levels of the Fox-in-a-Box Thermal Printer Starter Kit:
     1) Fox-in-a-Box Basic (FIAB-BAS):
Entry Level starter pack with Labacus® Innovator Basic Software to print all our thermal range, software also includes templates for all our laser range. Highlights:

Cut and paste from spreadsheets straight into software
Automated USB port identification
Seamlessly change between label types
     2) Fox-in-a-Box Advanced (FIAB-ADV):
Mid-range labelling pack includes Labacus Innovator Advanced Software. Highlights:
From CSV Spreadsheet – Import single columns/merge multiple columns
Multiple line labels
Choose your own font size
Print 2 rolls of heat-shrink/non-shrink at same time
     3) Fox-in-a-Box Professional (FIAB-PRO):
Top end solution includes Labacus Innovator Professional Software. Highlights:
Full spreadsheet view/import
Select specific cells
Produce cross ferrules
Variable quantity duplication for each cable ID
Bar Codes and QR Codes
Import graphics onto labels
Special Professional satellite
ORDER INFORMATION
Product Code
Printer Model
Labacus Innovator
Software Version
FIAB-BAS
DTP-1/300
Basic
FIAB-ADV
DTP-1/300
Advanced
FIAB-PRO
DTP-1/300
Professional
Download PDF Files for Additional Product Information, DTP-1/300 Thermal Printer information, Thermal Printer Ribbons and Version Comparison Chart.
Watch How easy is it to use a Fox-in-a-Box® Thermal Printer at the YouTube video below.
FREE Technical Advisory Service
E-Tech Components UK Ltd maintains a free technical advisory service.
Contact us for enquiries concerning this and all other products: +44 (0) 1744 762 929
Fox-in-a-Box
| | |
| --- | --- |
| Included items | |
| Printer: | DTP-1 300dpi thermal printer |
| Software: | Labacus Innovator Basic / Advanced / Professional |
| Ribbon: | TSR3/300 300m thermal ribbon |
| Cable: | USB printer cable |
| Manual: | Quick start guide |
| Support: | Full technical support |
DTP-1/300
| | |
| --- | --- |
| Technology | Thermal Transfer |
| Resolution | 300dpi |
| RAM | 8mb |
| Weight | 4.5kgs |
| Interface | USB |
| Dimensions | 231mm (W) x 289mm (L) x 270mm (H) |
*Technical Data subject to change without notice.
Technical Information
Image 1: DTP-1/300 and Thermal Ribbons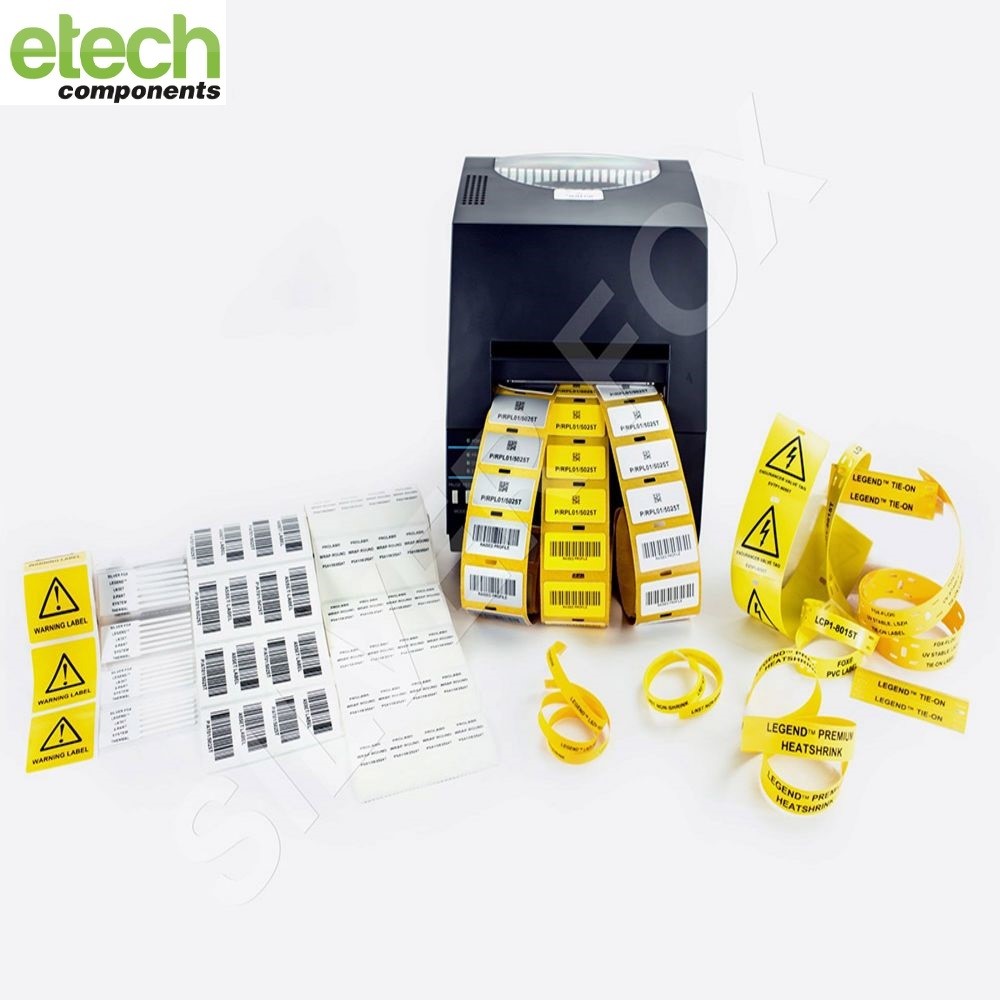 ---
Find out more about our products or becoming a supplier