The Definitive Guide to Underground Cable Ducting
Table of Contents
INTRODUCTION
Have you ever wondered what is underground cable ducting? Perhaps you're curious about where it's used or why there are so many types and colour variations of electric ducting. Or maybe you are not sure about how to install cable ducting? Or what the law says about it? Then this article is tailor-made for you!
Ducting can be a confusing topic, given that many people still associate the term more with ventilation than utilities. And it's definitely troublesome to find all the answers to your questions in just one place. Well at least that was the case up to now, cause we did it!! We gathered all the information we could find and compiled this article, to answer all FAQ on underground cable ducting.
---
WHAT IS UNDERGROUND CABLE DUCTING?
What is Cable Ducting?
Cable ducting is a cabling protection system in which electricity/power and other types of cables run through. Designed as durable and impact-resistant as possible to make sure cable protection from the weather and any other external factor.
What is Underground Cable Ducting?
Underground ducting refers to the protective solution through which essential utility pipes and cables are run underground to provide buildings with power, water, gas etc. It is also known as "Underground Ducting" or "Utilities Ducting". It is suitable for applications like Construction Projects, Railways, Highways, Power Plants, Urban Development, Data Centres, Airports, Stadiums, etc.
Underground electric cable ducting in the UK must comply with ENATS (Energy Network Association Technical Specification) 12-24 classes and be manufactured according to BS EN 61386 (which superseded BS EN 50086). The electricity provider of the area of installation should be able to give guidelines as to which class your project needs.
Material & Class Types
The different class types for electric cable ducting are Class 1, 2 and 3 ducting is for use with high voltage, low voltage and general application use respectively. Apart from the colour coding (advise Laws & Regulations paragraph below) and the class types, underground ducting also comes in a range of different materials and designs. Different types of utilities and installations require different types of ducting.
Plastic ducting is the most common one these days, but even this comes in different types. Polyethylene and UPVC are usually the materials of choice for solid wall pipes. Their design suits various applications depending on the specification and project requirements. Twinwall HDPE pipes are best used in areas that require some extra strength, such as beneath heavy concrete under a road/pavement. All pipe materials though, come in different compression strengths and SN ratings, so it's always best to have a look at the manufacturer's technical datasheet before installing.
---
WHY USE IT

/

IMPORTANCE
Organisation & Tidiness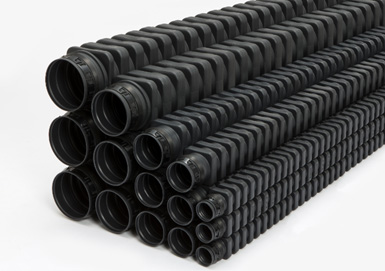 Every building you see out there makes use of utilities and services, delivered through pipework and cabling. There are millions of buildings and millions of miles of cables in the UK as well as in any other country of the world. It would be practically impossible to leave all those cables on the ground. Therefore, burying cables can be a neat, tidy and organised cable routing solution, especially in dense areas.
Protection
Apart from the optical benefits, underground ducting protects water pipes, gas pipes and electric cables from damage. And more importantly, they protect people from their (potentially harmful) contents.
If left unprotected and above ground, cables and pipes are exposed to weather and environmental factors. That increases the risk of being crushed, broken, tampered or compromised. This consequently could turn out to be a risk to the safety of people that come in contact with them. Exposure to a damaged electric cable could result in a harmful or even fatal electric shock. Burying below ground reduces many of these risks and simultaneously slows the effects of weathering on the cable.
However, even when put below the ground but remain unprotected, pipes and cables can be damaged by other factors, like roots growing around or through them, or by people accidentally digging where they are placed. That's where underground ducting comes in use. By running utility pipes and cable through ducting pipes, it provides an extra layer of protection and insulation against any type of damage or potentially harmful event.
Saving Time & Money
Another essential reason is that underground ducting saves time and money. Services like electricity, water, gas, internet and phone lines can all run smoothly and without interruption. Additionally, any type of maintenance or repair work becomes easier. That increases general operational safety and reduces project costs considerably.
Leakage Prevention
Last but not least, another important reason for using underground cable ducting is that it constitutes a great way to ensure that any substance-leaking from cables doesn't immediately affect water or other sources. Both overground and underground cables can leak and ducting is a good solution to prevent any potential contamination.
---
INSTALLATION METHOD
Have you ever wondered how to install underground utilities ducting?
Installing ducting is relatively easy, but ensuring that installation is safe, efficient and in compliance with the laws and regulations requires some planning and insight. The main steps are: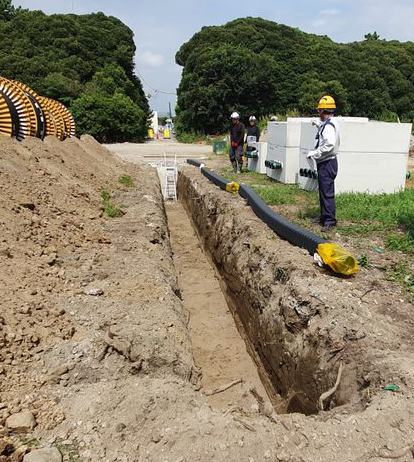 1) Choosing the right colour duct to match your utility.
2) Choosing the right material while considering the conditions of your installation.
3) Designing your installation route and making sure no other utilities run through it.
iStep 4 – Turning off the utilities you are going to install before you start.
4) Digging a trench of the appropriate depth and width for your utility.
5) Preparing a 50mm deep bed of sand or fine soil in the base of the trench. Making it level with the access chamber/ catchpit interface.
6) Installing the ducting efficiently with as few bends and minimum waste as possible.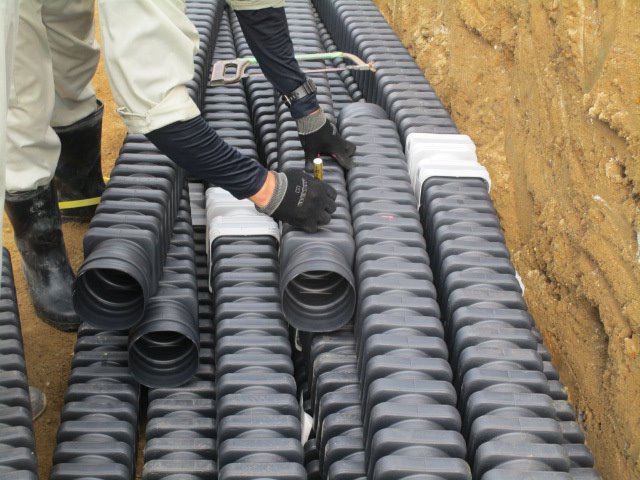 7) Using draw cords and the pilot rope/wire to help run the pipes/cables through the ducting.
iStep 9 – Checking the installation to ensure everything is connection and sealing is correct.
8) Turning utilities on again and inspecting for any visual leaks/connection issues.
9) Installing an appropriate marker table above the ducting at the recommended depth and filling in the hole.
Every manufacturer, however, has some additional steps or differentiators in this process according to their solutions' requirements. To download Furukawa Electric EFLEX Square Ducting System's Installation Manual, please follow the link below:
EFLEX Square Installation Manual
For additional guidelines on the Planning, Construction, Health & Safety and Site Conditions prior the installation, please advise: http://streetworks.org.uk/wp-content/uploads/2016/09/V2-New-Development-Sites-Issue-4-29-10-2013.pdf
---
LAWS & REGULATIONS
What does the law say about underground ducting?
The legislation in place for the installation of underground cables and utilities, focuses mainly on the minimum installation depth of the relevant pipes and cables. Another legal requirement when it comes to underground ducting, is to use the right ducting colour for the appropriate utility. Additionally, installation of cables and pipes into ducts that are suitably-sized to accommodate their diameter. Before installation takes places, all cable duct should be checked and cleared of obstructions. To ensure that the duct is suitable for the type of installed cable UKPN (UK Power Networks) recommend:
A 3-metre long LV-HV sample cable, same as the one that will be later on installed, to be pulled through the complete length of the cable duct.

The duct should then be examined for any cracks or damage before proceeding to pull and install the complete cable length.

If the sample of cable is found to have deep scores and tears in its outer sheath, which are more than half the thickness of the outer sheath, the cable duct route shall be repaired before any attempt is made to install the final length of cable.
The usage or continuation of usage of any underground cable/pipe or attached equipment that does not comply with the current laws and regulations is illegal. The prosecution of anyone responsible is possible.
What are the underground ducting colour codes and why are they important?
The reason each pipe is a different colour is purely for safety reasons, building regulations and to identify which ducting is protecting which type of cable.
The colour codes are useful during excavation or if some repair is necessary in underground utilities networks. It particularly, aims to reduce the chance of damaging underground services while also minimising the risks of anyone involved in this work. It's important to know and adhere to the UK's universal ducting cable colour codes (see image).
There are minimum depth requirements for all underground utility ducting;
Red or black power/electricity installed at depths of 450mm to 1200mm
Blue water pipe buried at least 750mm
Yellow used for gas, installed at 600mm and at least 750mm beneath a public footpath or highway
Green used for CCTV, installed at depths of 250mm to 350mm
Grey BT/Telecommunications installed at 350mm also
(All depths indicated are from the top of the pipe to finished ground level.)
Additional Sources
For more information on the rules and regulations surrounding underground utilities, we suggest visiting the government's Street Works UK website. This government site has publications that each contain specific information dependent on the location or use of the underground cables. For example, guidelines around positioning underground utilities in new developments are in Volume 2 while information regarding the management of third-party ducting in Volume 3.
Another useful and reliable source is the HSE Legislations website. HSE offers more information on excavation and underground services including how you should take care when digging in any area and how to use a locating device to compare plans to what's in the ground. Some professionals advise using plans as a starting point to find underground cables but not take them as gospel.
---
FREQUENTLY ASKED QUESTIONS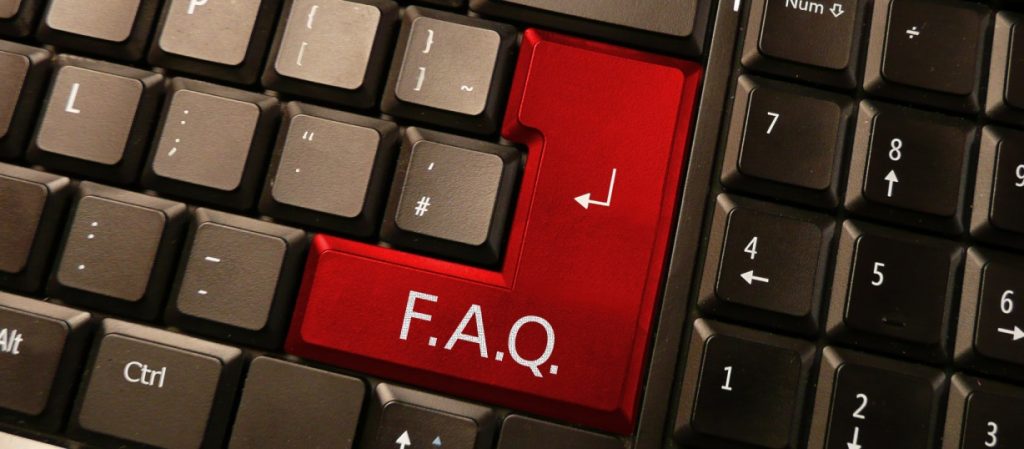 Is ducting the same as trunking?
Both cable ducting and trunking protect cables, manage it in a neat way and hide them out of sight. However, each one had different uses and applications, and they have some key differences.
First of all, Cable Ducting is for outdoor use and underground utilities installations. On the other hand, Cable Trunking's main use is for indoor cable management. Additionally, the former consists of lengths or coils of pipe, whereas the latter is an enclosure, usually with a rectangular cross-section and a removable (or hinged) side.
Cable trunking is usually visible in office buildings as a white plastic box that runs along walls and roofs. Its purpose is to cover electrical equipment an keep them safe and tidy. You would never find trunking buried in the back garden with power cables or utility pipes running through it. That is what underground ducting is for!
What are the HS Codes for Cable Ducting?
The HS Code for Trunking, Ducting and Cable Trays for electrical circuits is 39259020. HS stands for the Harmonized Commodity Description and Coding System and constitutes an international nomenclature for the classification of products. It is also famous as Customs Tariff Number.
Does Armoured (SWA) Cable need ducting?
There is no need for ducting when installing Steel Wire Armoured (SWA) Cable. You can bury it directly in the ground with no further protection at sufficient depth as to prevent damage!
However, you can just add a layer of sand or sifted coil under the cable, followed by more sand or sifted soil on top, in order to prevent any sharp stones penetrating the outer sheathing.
---
FURUKAWA ELECTRIC CABLE DUCTING
E-Tech Components offer Furukawa's Underground Cable Ducting System, which enables the simplest and fastest installation of protected buried cable routes, EFLEX Square! EFLEX Square complies with ENATS 12/24 Class 1 Specification. Additionally, its units are stackable, which makes them ideal for underground multi-rack cable installations.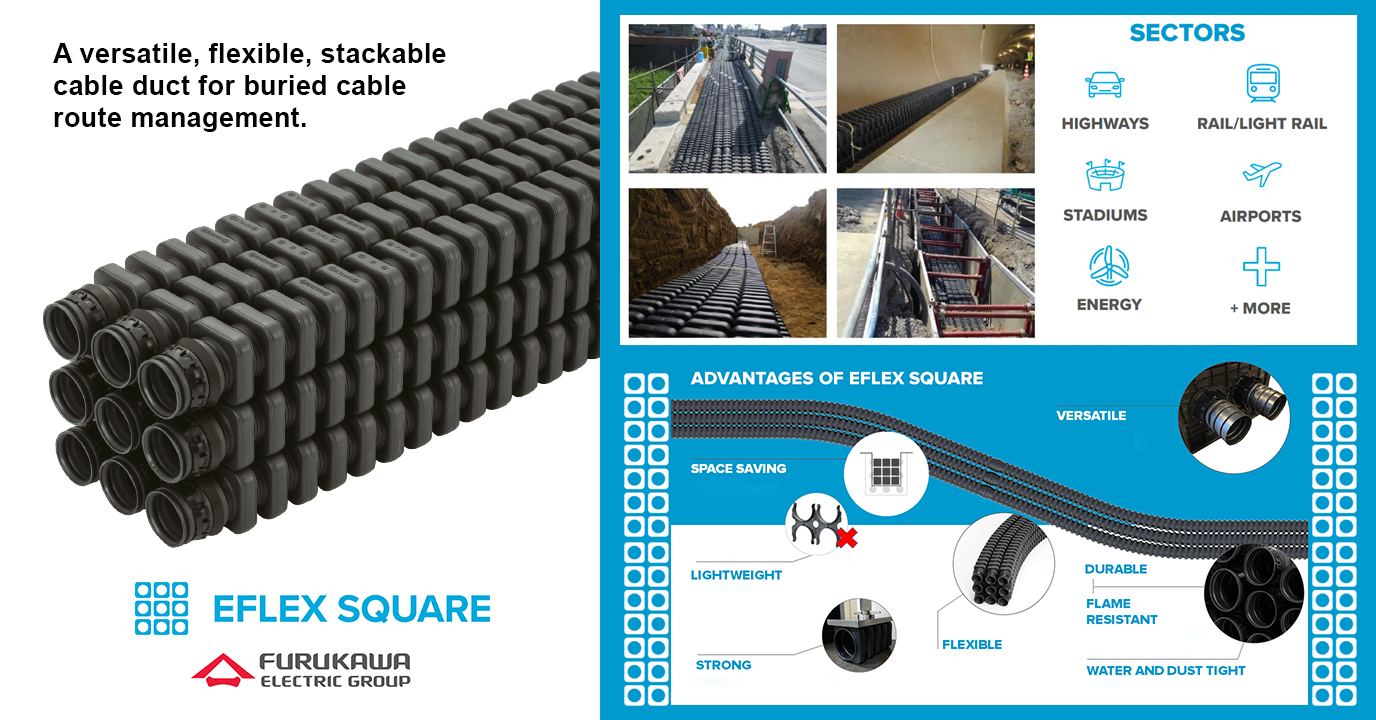 View our Cable Protection Solutions Here
---
FREE Technical Advisory Service
E-Tech Components UK Ltd maintains a free technical advisory service.
Contact us about any questions, enquiries or requests you may have: +44 (0) 1744 762 929